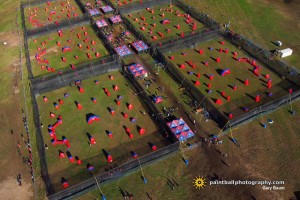 This time next week we will know who the 2012 PSP Galveston Island Open winners are, and subsequently the frontrunners for the PSP Professional Title. However, as we all know, this off-season was insane in terms of roster movement so there are some definite storylines worth following throughout the event.
6. Dynasty Dominance
Last year we saw Dynasty start out inhumanly strong by smashing through rookie team Chattanooga CEP (7-0), Edmonton Impact (7-1), Los Angeles Ironmen (7-1) in the prelims; and defeating LA Infamous (5-2) in semis. The only match they dropped was their second against Boston Red Legion who they bested in the finals rematch, taking the event by a final score of 7-2. This year they have added Rusty Glaze, formerly of LA Infamous; division 1 player Andy Horvath of NPPL professional team Indianapolis Mutiny; and speedster Sean "Crunchy" McDonald (who played his last professional event with LA Ironmen in 2007). Dynasty was the most consistent team in paintball last year, making the podium every event with their worst finish being 3rd. However, they only found the gold medal once. That being said, traditionally the first event of the season has been good for Dynasty. Going back to 2004 they have been seen on the podium 5 times with their worst place at 7th in 2008. The story we think is most intriguing to Dynasty in 2012 is: will they be able to continue their dominance from last year; will their new pickups have an instant impact?
5.New Snake Bunkers
A few weeks ago Sup'Air released the new field "upgrade" kit which included a new modified snake. The initial reception from the community was severely mixed. Comments ranged from "who cares, play smarter!" to players damning Sup'Air for using their position as manufacturer to push local fields to spend unnecessary money on a "worthless" upgrade. What is certain is that we will be watching the snake very carefully to see how these new bunkers affect play.
4.Rookie Professional Teams
This year the PSP Professional ranks add upTon 187 cRew, Seattle Thunder and Houston Heat. Out of these three new teams, Houston Heat will have the best season – mark it. However, it will be interesting to see if Thunder and upTon can hold their own, particularly when they play each other and when matched up against second year pro-team, Chattanooga C.E.P later in the year.
3.Will Houston Heat Ignite or Fizzle?
Which naturally bring us to perhaps the biggest move of the season: the exodus from Boston Red Legion, and the formation of Houston Heat. Houston is the newest team on the block as this group of players has never played under a single banner before, but they more than pass the eyeball test of recognizable faces: Konstantin Fedorov, Chad Bouchez, Chad George, and Nick Slowiak just to name a few. However, this is only their first event together and one offseason is not a lot of time to put together a professional paintball team. That being said, the players on this team have enough personal skill that they could become a dark-horse to play on Sunday. I personally think that will be further down the road, but it will be interesting to see how this team plays at Galveston Island: in particular against defending champs Tampa Bay Damage on Saturday afternoon. We will learn a good bit about this team during that match.
2.Russian Legion Reloaded
On the other side of the coin, you have the perennial powerhouse Boston Red Legion who is having to do some major reloading for this season. As many questions as there are concerning Houston Heat, there are just as many for Boston. What is known, at the moment of writing, is that the Red Legion only has four players on their APPA roster, three of whom who have been playing with the Boston program for several years, but it is yet to be seen who else will be making the trip from Russia to play next weekend. Also, we have just received confirmation that Jason Wheeler and Marcello Margott have been practicing with them in Texas. However, it remains to be seen if they will join the current roster. What is also known is that the Red Legion has some of the best coaches, support staff, and training regiments in the world which lead us to believe that they'll be back to form ASAP. But what about this event? We'll see at Galveston!
1. Consistent Damage?
And how could we NOT mention Tampa Bay Damage. This team caught fire last year and solidified itself as a top tier paintball team by making the podium three times last season, and winning the last two PSP events which included World Cup. What is even more impressive is that like Dynasty, when this team wins, they win big. In their two gold medal finishes last season they averaged 6.08 points a match, maxing out at 7 points 50% of the time; only dropping one match in the New Jersey Open prelims to Aftershock, by one point (5-4). Here are some more incredible numbers: in those two events, Damage only allowed 23 points from their opponents out of a possible 63. That translates to: point for point, teams that play Damage are only scoring 36.50% of the time. Outside of their one loss, the average points allowed by Tampa Bay is 1.63 a match. The obvious question for the World Cup Champions is will they be able to continue their success. The team is a year older which means that young impact players such as Keith Brown and Jacob Edwards have had time to be molded into top notch players and shouldnt be "wowed" by the stage; and the team made a major move when they picked up former Boston Red Legion star and child prodigy, Justin Rabackoff. That being said, it is very lonely at the top and while getting there may be a climb that most players spend their entire careers attempting to summit, it is only ten times harder to remain at the top. Damage has a bright and large target on their back – will they slip up this event?
And finally (on a quick side note), will the weather hold!? Paintball events are notorious for having either the absolute best of weather, or the absolute worst. When it rains on us, it tends to pour…and be super windy…with lots of hail…you get the picture. Early looks at this weekend in Galveston Island are calling scattered showers on Thursday through Sunday. Hope it stays dry!