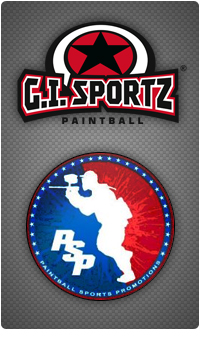 Procaps' GI Sportz™ paintballs and banners will once again fly proudly over the PSP League's tournament fields across the USA, bringing last year's most victorious GI brand back to the sport's premiere Pro/Am league. In 2010, Teams shooting GI Sportz paint won all but one of the PSP Events, which represent the best-attended and most professional presentation of the tournament aspect of our great sport. Procaps/GI Sportz embraces the PSP's long term achievements in overall excellence and innovation. Considering their consistently superior Team attendance and Dealer participation, the decision was clear to support the League that has earned the widest acceptance among participants.
For years, the industry's main manufacturers have urged the two main leagues to merge, in order to achieve two fundamental goals. First, to form a clear, One-League path to encourage tournament players to escalate through the ranks from Novice, to Amateur, and ultimately to Pro divisions, thus extending their participation in Paintball for years. Every other sport follows this simple One-League formula, without subjecting Teams to the immensely expensive distraction of having to play in multiple leagues.
Secondly, for years, major industry sponsors have made it crystal clear that the immense financial burden of sponsoring both Leagues was simply unsustainable. With two Leagues, 2012 would bring TEN EVENTS, which would demand nearly half a million dollars in costs including sponsorship fees, travel, event staffing & lodging. Since the merger talks began, the troubled economy has caused a reduction in overall Paintball participation, while manufacturing costs have continued to escalate sharply. This new financial reality has simply killed the failed two-League option in its tracks.
Like businesses in many Countries around the world, the Paintball industry must adapt to the realities of surviving in a world recession. In a time when Paintball urgently needs a strong, unified approach to growing our sport once again, the PSP represents the single best option at this pivotal time in our history, and we invite you, the Players, Teams and Dealers, to join us for this exciting tournament season.
GI Sportz Paintball products are manufactured by Procaps® Paintball (A subsidiary of G.I. Sportz, Inc.) using environmentally friendly original PEG & EcoFill™ formulas. Procaps also manufactures DXS™/DraXxuS® Paintball products & VForce Vision Systems® Paintball goggles. Procaps Direct™ distributes a full line of quality Paintball gear through an ever-growing USA Paintball Dealer network.
More Paintball info:
www.GISportz.com,
www.DXSPaintball.com,
www.FaceBook/GISportz,
www.Facebook.com/DXSPaintball.