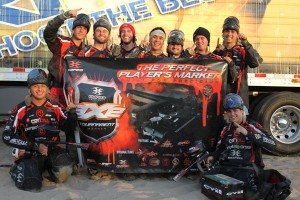 It is time to get Critical! With the recent announcement that Oakland Blast will not be competing this upcoming season it left an empty spot in the NPPL professional rankings. One that was not empty for long, as Bob Long himself approached Critical Wrecking Crew about stepping up to the top spot. With the help of Bob Long, Critical and Crossfire it is possible for Critical to take another step up the ladder, a dream for each and every player out there.
We here at SocialPB thought we should touch base with the team to ask them a few questions. We present you Edwin Dolgopyat, team captain and the Director of Operations for Critical Paintball.
SocialPB: What does the move up to the professional division mean to the team?
[pullquote_right]The team has the heart and drive to meet the expectations.[/pullquote_right]Edwin: When Bob Long approached us with the opportunity of going professional we initially had some reservations. Since we had only won Huntington Beach and placed 4th in Chicago as well as the season overall, we understood that we had not dominated Division 1 by any means. However the chance to go professional is what every kid who plays paintball dreams about. This opportunity is rarely given so for us not to capitalize on it would have been idiotic. We know that we are the low man on the totem pole right now, but we are dedicated. With some new roster changes and hard work we will prove that our bump to the professional division was not premature.
SocialPB: What are you guys doing to prepare yourself for the highest caliber play?
Edwin: Last season we had almost an entirely new squad and we had to adjust to that. After doing relatively well last season we have recognized both our strengths and weaknesses. Now that we are more cohesive we have been able to work on those aspects of our game that were less than perfect while further strengthening those that have been the source of our success. Since we practice six times a month, and with the help of our new coach Eric Felix, we are confident that we will prepare for our bump to professional.
SocialPB: Are you going to do anything different this season?
Edwin: Last season we pretty much ran the team on our own which presented some problems since it is difficult to maintain a necessary prospective on what is and is not working both in practice and at tournaments. This was especially compounded by the fact that many of the teams we faced in D1 did have an extensive support network (i.e. Dynasty 2 which has Mike H and Impact Echo which has the professional team as a sounding board). With the addition of Eric Felix as a coach we are confident that we will mitigate these problems. Moreover, our bump to professional has gotten us attention from the SoCal paintball community which has talented and hungry players in spades. This has allowed us to make new additions to our roster that we feel will make us more of a well rounded team.
SocialPB: Where do you feel is currently your weakest position and what are you doing to correct that?
Edwin: In all honesty we feel that we are as well rounded as a group of new professionals can be. Most of us have come up through the ranks of paintball with each other, either playing with or practicing against. That being said we still know that we have not stopped learning. We are under no illusion that professional will be easy or in any way comparable to any of our divisional careers. But each one of us on the team has the heart and drive to meet the expectations that are put upon any pro athlete.
Roster:
Edwin Dolgopyat #24
Eric Shick #02
Jon-Paul Fortunati #10
Kristian "KM" Navarro #21
Myk Lambrose #702
Nick Sweeney #12
Rob Baker #11
Travis Carl #13
As you can see this is a young team with the drive and ambition to take on giants. And that they will this coming season when they take on the likes of Dynasty, Impact, XSV, Explicit, Damage and many others. It will be interesting to watch this new team develop and grow throughout the years. We would like to welcome Critical to the professional ranks and wish them luck this year.
Team Forum: http://www.pbnation.com/forumdisplay.php?f=875
Facebook: http://www.facebook.com/pages/Los-Angeles-Critical/256119727793934
Website: http://www.criticalpaintball.com