You might be wondering why I have chosen to write about snowboarding goggles in my article for Social Paintball instead of writing about Russian Legion or Art Chaos.  Simply enough, I'm not just a paintballer who writes about and interviews her favorite paintball teams; I'm also a snowboarder who is excited to have learned that the paintball equipment manufacturer DYE has decided to expand their product market into snowboarding.
Fear not, this Russian Legion obsessed writer and fan has figured out a way to sneak some Russian Legion related writing into this article and it's not just me stating the obvious that some of Russian Legion's players enjoy snowboarding.  Surprise!  Thanks to his willingness to be interviewed and to tell us more about the new DYE T1 Snowboarding Goggles, I would like to welcome Mikko Huttunen, who lived in Moscow for a year playing with Russian Legion in 2004 and presently works for DYE.
MC: Thank you for this exciting opportunity to learn more about you and to learn more about DYE's brand new T1 Snowboarding Goggles.  So, let's get this interview started.  How long have you worked for DYE?
MH: I have worked for DYE since 2005.
MC: What is your position/title at DYE?
MH: Vice President.
MC: What does the Vice President of DYE do each day?
MH: Pretty much everything what you can imagine that happens in a Global organization.
MC: Do you love working for DYE?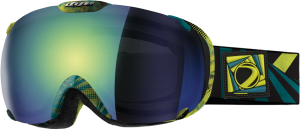 MH: I most definitely love working at DYE.  The best part is that we are a privately owned action sport company, so we can assure that everyone at DYE is passionate about the company, sports and wanting to be part of the DYE family.  I also love the fact that a lot of our employees are athletes or ex athletes, so we are very connected what's going on.
MC: Tell me a little bit about yourself and your experiences with paintball.
MH: I have been playing with a team called Ironmen since the beginning of 2005.  Before that I played with Russian Legion and some other European teams.  I started playing in 1996.  I'm taking a little break right now from paintball as other things are keeping me too busy, but I still love to play.
MC: I'm happy to hear you still love to play.  So, DYE has crossed over into the snow sports industry with their new DYE T1 Goggles.  Paintballers are very familiar with DYE products so the first question will definitely be, are these goggles able to be used for both paintball and snow sports?
MH: You're right; we just officially launched our snow sports division at the SIA show in Denver.  This division is a totally separate operated division under the DYE name.   We have been in the process of making this move for the past year and we have added some great new people from the snow and surf world to make our DYE team even stronger.  This kind of leads to your question, the T1 goggle is our first flagship item and it has nothing to do with paintball.  So don't use it for paintball.  The only thing paintball people can trust is that DYE's quality with manufacturing and design are up to par with snow stuff just like with all our other stuff.  We are very excited about the first goggle.  In making this goggle, we have concentrated making a product so it blends high quality, style, performance and functionality.  By the way, there is more stuff coming… hitting stores next August/September.
MC: More awesome stuff from DYE?  I can hardly wait!  So I know that there are probably industry secrets behind this next question and I'd hate for me to mysteriously disappear after asking it but I've gotta' know.  What materials are the goggles made of (lenses, frames, strap, etc.)?
MH: Proprietary light weight thermoplastic frame, high stitch count woven strap, and the lens is injected polycarbonate thermal lens which is optically corrected.  We offer goggles with different lens options from polarized DYEtanium coated high performance lenses to storm/night lenses, so whatever conditions you want to ride in, we will have right lens for you.  All of our lenses provide, of course, 100% UVA, UVB and UVC protection.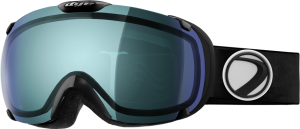 MC: Are the lenses and frames flexible and shatterproof?
MH: Yep.
MC: I own a pair of DYE i4's and LOVE them because they do not fog.  Should we expect the same reliability from DYE's T1's?
MH: We apply, on our lenses, a process that we call 4D coating.  This allows our lenses to perform amazingly and not fog even in hard conditions.  We have been putting lots of effort and time in over the years to develop our lens processes, so yea you can expect the same reliability as i4's if not better.
MC: Okay, you've totally got me wanting a pair now.  When are these goggles going to be available for sale?
MH: We launched the line officially at the SIA show and selected models are available online right now at www.dyesnow.com.  The 2013 line hits stores fully next August/September.
MC: How much will they cost (US Dollar)?
MH: Price will vary depending of your lens/design.  Goggles go from $130 to $225 USD.  Information is available at www.dyesnow.com.
MC: What colors will they be offered in?
MH: Plenty of options and you can check out the ones that are available right now from www.dyesnow.com.  The whole line will be available August 2012.
MC: Will you be able to purchase different colored lenses for different light conditions?
MH: Yes, T1 lenses are super easy to change.  Some models come with two lenses as well.
MC: Will you be able to purchase custom straps or replacement straps for them?
MH: Not right now.  The look of the goggles are more like that all the parts are supposed to be in one goggle, so patterns, colors, and lenses will look cool.
MC: I'm a former downhill mountain bike racer who still rides and would love to know if DYE has any plans of expanding into the motocross and downhill mountain bike industry.  If they do, will they offer a tear-off or roll-off option for their motocross goggles?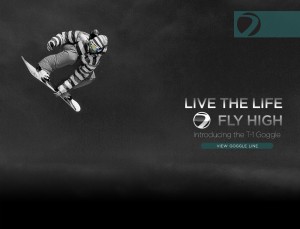 MH: We are concentrating now on our new snow division.  Who knows though, maybe in future…I bet T1's would work great on downhill as well.
MC: Now I'm super excited.  I'll have to try them out for both snowboarding and downhill mountain biking and let you know how that goes.  What pro riders will be wearing the T1's for 2012?
MH: Our team is sick… Pros: Bjorn Leines, Aaron Biittner, Markus Malin, Ville Uotila, Zack Black, Ams:  Ilkka Laari, Spencer Shawn, Chris Frost, Madison Ellsworth, Aleksi Kumpulainen
MC: That's an incredible team of riders you've got there Mikko.  I'm totally looking forward to checking out those T1's for myself.  Thank you so much for taking time out of your more than busy schedule for me to be able to interview you and learn more about you and the T1's.
For more information about DYE's T1 snowboarding goggles check out the links below:
Website: www.dyesnow.com
Facebook: http://www.facebook.com/dyeSnow

Twitter: http://twitter.com/dyesnow