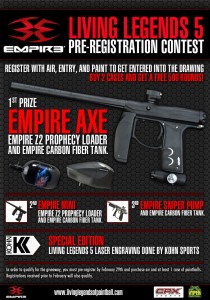 Sewell, NJ, February 7, 2012, Empire Paintball. Empire Evil Paintballs named official event paint of CPX's Living Legends 5.
Empire is proud to announce that Empire Evil Paintballs will be the official event paint of Living Legends 5, this year's most anticipated scenario event hosted by the world-famous CPX Sports May 18-20.
Kerry "Viper" Rosenberry, producer of the scenario game stated, "We're excited to be shooting the best again this year at Living Legends 5.  When producing an event of this magnitude, only the finest paint this industry has to offer will do and we have found that with Empire Evil Paintballs with RPS Technology."
CPX Sports' Living Legends is globally recognized as one of the sport's most successful paintball events drawing enthusiasts from all over the world to the Chicagoland area to experience the very best facility and game-play paintball has to offer.  This year marks the 5th installment of the event and is widely regarded as the must-attend event of 2012.
Paul Dagnino, VP of Sales and Marketing at CPX Sports said, "We're thrilled to be offering Living Legends players Empire Evil paintballs again in 2012.  We shoot only the best at CPX Sports, whether it's for practices, tournaments, recreational play, or the industry's best scenario event and for us that means Empire Paintballs with RPS Technology."
For more information about Living Legends 5 visit http://www.livinglegendsofpaintball.com
For more information about CPX Sports visit them online at www.cpxsports.com
Connect with Empire Paintball on Facebook and Twitter to stay up to date on the down low.
Empire Paintball is a brand of KEE Action Sports LLC.