Name: Justin "LJ" Schwarz
Teams: LA Ironmen & SF Explicit
Years playing: About 13
Position: Front/Mid Insert
Sponsors: Dye & GI Paint
Occupation: Sales at Raza and recently went back to school full time as well
Hometown: Mission Viejo, CA
SocialPB: For those that may not know, please tell us how you got involved in the sport of paintball.
Justin: I was in the 5th grade when I first went paintballing with a few friends for my birthday. I was instantly hooked and from that point on I saved every dollar and put it towards playing paintball. I am so blessed to have traveled the world with my best friends doing what I love.
SocialPB: With teams making big moves in the off season to stack their roster, what are the Ironmen up to?
Justin: The Ironmen have been looking at players during the off season. We did just pick up Ryan Martin and we have a few more in the works. I believe our team will be a top contender at every event this coming year. We definitely have what it takes to win from the talent of the youth to all of our veterans.
SocialPB: What is it like behind the scenes at Raza? What is your daily routine?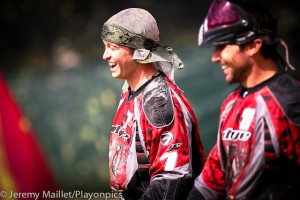 Justin: Behind the scenes the activity is very busy. We have just recently moved into a warehouse where all of our equipment is under one roof. This is the next stage in developing our company and taking it to the next level. My daily routine consists of waking up and usually working out in the morning then heading into the office to work until around 6 or 7. That is my typical routine when I am not traveling the world for clinics or tournaments.
SocialPB: Do you have any strange or unusual pre-game rituals?
Justin: I do not really have a pre game ritual. I like to listen to music while I warm up and stretch and that is about it.
SocialPB: What has driven you to keep playing for 13 years?
Justin: The passion for the sport has definitely driven me to keep playing all of these years. Ever since the first time I picked up a paintball marker in the 5th grade for my birthday party I have had the same exact amount of fun playing this game. I gave up playing soccer for paintball and would love to see it be as well recognized as a professional sport.
SocialPB: Who do you personally feel are the top 3 players in the game today?
Justin: It is really hard to say who the top 3 players are in the game today. I would have to say Justin Rabackoff, Konstantin Fedorov, and Dave Bains.
SocialPB: Why do you consider them to be the top 3?
Justin: Well I had the opportunity to play with J-Rab in Europe on the Dynasty/Arsenal team we assembled and he just played great. I have watched him become a great player over the years. Fedorov is very good and a great player to watch. He knows how to read a field very well and does things that most players in the league are afraid to do. And last, but not least, is Dave Bains. I also had the opportunity to play on Dynasty one year with Dave and he is an amazing back player. He is great at communication, and excellent sweet spotter, and he can read a field extremely well. Those would have to be my top 3 players in the game today.
SocialPB: Since it is 2012 and the superstitious people feel the world is ending what would you do if you only had a day to live?
Justin: If I only had one day to live I would get all of my friends together to play paintball. That would be the ideal way to end the world.
SocialPB: What makes Raza the best choice for custom gear over the competition?
Justin: Raza has been doing this for 5 years and have mastered the product. Our competition uses our designs to model their product from. Todd Martinez has been in the game for many years and knows exactly what players want to see at the professional level. We are only getting better at what we do and if anybody is interested in getting their team laced up with Raza gear please email me at justin@razalife.com
SocialPB: What is it you fear the most in life?
Justin: I fear heights the most in life. I have overcome a lot of the fear but certain things will definitely bring it back.
SocialPB: What has been your biggest joy off the field?
Justin: My greatest joy off the field is traveling the world. I never would have thought when I was growing up that I would have an opportunity to see so many countries and do half of the things I have done on my trips. I am very fortunate to be able to have done as much as I have at such a young age.
SocialPB: What made you decide to become part of the Explicit roster this season?
Justin: I wanted to play with Explicit because it seems like an opportunity to play on a new team that has the potential to do well the whole season. I live in San Diego so the practices will be easier to make with a team that is somewhat local to me. I am looking forward to this season and seeing how we do as a team. See everyone in HB!