Hello Axel.  Thank you for sharing some of your time with me for this interview.  Once I heard the news that you will be playing PSP 2012 for Boston Red Legion, most everyone who knows me knew I would be trying to find out as much information about you as possible.  I am a HUGE Russian Legion fan.
MC:     I have heard that you will be playing for Boston Red Legion for PSP and TonTon for the Millennium Series?  How much travelling do you think you will do in 2012 and where will you travel to?
AG:     That's right.  I will play for Russian Legion in PSP and TonTon in the Millennium Series.  I'm looking forward to playing in PSP and playing against the best teams in the world.  I think I will travel 3 weeks per event for PSP.  This would be around 3 months in the year of traveling in the USA.  For the Millennium Series, I will spend 5 days for an event, so I will travel around 3 weeks to play there.  I'm happy because I will travel a lot to different places including Galveston, Phoenix, London, and Bitburg.  I really enjoy traveling to a lot of destinations and I'm looking forward to waiting during the flight, one more time, and spending some time in cool places.
MC:     You have had incredible success in paintball at, what many consider to be, a very young age.  What and who has helped you achieve so much in paintball so quickly?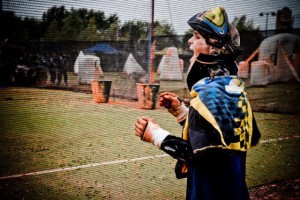 AG:     I think I've taken a good path and met good people.  In the beginning, I was playing with my uncle for 1 year; I played Millennium in Division 3.  I went on holiday in Marseille and asked Lyonnel Parra (from Vision) for a field to practice on.  The following year, I signed with Vision and learned a lot by playing with them.  Three years ago, I united with TonTon to play the CPL and they taught me a lot of things, both in and out of the game.  I need to thank Fabrice Tavarez and Franck Mouren from the TonTon's Club for lots of exercises with us and practices to reach the best level.  A huge thanks to all the guys who supported me and helped me get here.
MC:     Random thought here…one time I was going up snowboarding and drove several hours to get to the ski resort.  Once I got there, I realized I had forgotten my snowboard pants and ended up riding in my shorts because it was way too good of a day to ride and I didn't want to drive all the way home and back again.  Have you ever had something like this happen to you when you were going to go play paintball?  What was it you forgot and what did you do once you found out?
AG:     Ah-ah it already happened a few times.  I think I forgot my backpack two or three times so I had to play with 2 pods in the pocket.  I already have forgotten my shoes too.  It was hot and I was in flip-flops and had to play while wearing my flip-flops!  Thankfully just for practice.
MC:     Training is an enormous responsibility for professional paintballers.  It helps with your speed, endurance, agility, accuracy, and also prevents injuries.  What are three of your favorite training exercises that you feel make the most difference in your game?
AG:     To reach my level, I do a lot of exercises to improve my paintball abilities first because it's the most important thing in my mind.  The other thing I practice is lucidity, to continue good shooting after 6 or 7points and to try to be decisive in a 6-6 match situation.  I like to learn a field and try to find the good spot to shoot your opponents, or blink zone etc.
MC:     What are two of your major goals in professional paintball for 2012?
AG:     For 2012, my first goal is to be as good as I can, to push the team, and to obtain victory.  My second goal is to succeed in both championships – Millennium and PSP.  Both of goals depend on me and the team.  So, let's do it!
MC:     You're going to be 19 years old in June.  I know, it is over half a year away but you could let your fans know so they can start saving up to buy you gifts so… What do you want for your birthday?
AG:     I want a Go Pro, and a big, big iMac .
MC:     What is your advice for people who want to play paintball at your level?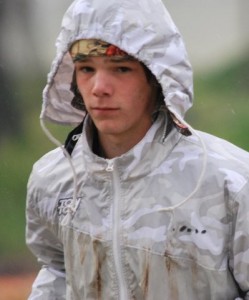 AG:     As with everybody, practice, practice, and practice.  Never release pressure, and the desire to win.  Never stop practicing to stay at the top.  Be sure of yourself and of your team.
MC:     Hey, let's do something fun during this interview!  Put your iPod on shuffle and tell me what the first 5 songs/artists are that play.
AG:     Rohff – Get down Samedi Soir, Dr. Dre – The Message, Notorious B.I.G. – Me and My Bitch, Wiz Kalihfa – I'm Good, Jay-Z & Kanye West – Niggas in Paris
MC:     What do you do for fun when you are not playing, practicing, and training for paintball?
AG:     Going out with friends and playing football with them, listening to music, and having sex 🙂
MC:     Wow!  You sure caught me off-guard on that last one Axel.  I'm blushing so much; my face is almost the same color as the red "RL" on my Russian Legion fan jersey.  Moving forward, 2012 is almost here, any New Year's resolutions?
AG:     Resolutions.  I think mine are: Don't die before the end of the world, get good results at school, have more fun, and play more paintball!
Those sound like some great New Year's resolutions Axel.  Thank you again for sharing this moment in time with me.  I had fun interviewing you and I will definitely be following you and the rest of Boston Red Legion intently throughout the 2012 season.  Best wishes to you in 2012 and I look forward to seeing you play while proudly wearing the Boston Red Legion jersey.
Follow Russian Legion on Twitter: @rl4you