Hello Jason, thank you for providing me with this exciting opportunity to interview you for Social Paintball. As you already know, I am a HUGE Russian Legion and Art Chaos Moscow Fan so you must have known I'd want to learn everything I could about you once I heard the news that you will be playing PSP 2012 for Boston Red Legion. Congratulations for signing with Boston Red Legion for PSP and TonTon for the Millennium Series.
MC: After doing some research, I learned that your continued hard work and dedicated training has earned you 6 years of playing paintball at a professional level. Two part question: What and who motivates you to achieve this high level of success?
JW: I guess, partly at least, that the answer to that question goes hand in hand. Sitting in London watching the best of our sport compete at the highest level paintball has to offer really does motivate me to be the person being watched instead of the person watching. I think all people should aspire to be at the top of their game because your ability isn't truly tested until you play with/against the best around. So being the top of the game, being able to stand on that 1st place podium finish, is what drives me.
MC: I've noticed that your Facebook page has many posts regarding your training including, "Practice, on the grind for 2012, up early practicing in the cold tomorrow, and circuit training tomorrow." Your Facebook status update that made me even more eager to learn you will be playing for Boston Red Legion stated, "Going jogging, practice every weekend…What's offseason?" Obviously you are very dedicated to your personal physical performance. What are some of your favorite exercises that hone your skills for paintball?
JW: I used to think any exercise is good exercise, but recently, after some research and chats with some other athletes in the sport, I came across things such as circuit training and interval training. I've just started some intense sessions that revolve around cardio fitness and explosive speed training.
MC: What music do you listen to when you work out and do you listen to any music right before you take the field?
JW: This is a good question. I don't really listen to music before I walk on the field because my mind is focused on the game plans and what is expected of me. I listen to a lot of British rap and of course US mainstream artists but if you were to look through my iPod you'd be surprised of some of the choices.
MC: This next question is definitely random but it popped into my head recently when I was washing all of my paintball gear after enjoying playing paintball at one of our local fields. How do pro paintballers keep their paintball gear in top condition during tournament season, with numerous practices, events, and games, while traveling?
JW: That's a good question. I think if you go out of your way to make sure your kit is packed, washed, and stored correctly people would be surprised how long it'll last!
MC: You will be playing in both PSP and the Millennium Series in 2012. What are the differences between PSP and the Millennium Series?
JW: It's strange because the tables have changed in the last year due to the PSP changes in field length and such. If I can speak for this year (2011), the Millennium fields are quite fast. People tend to run through lanes and take big risks and they do it consistently. Maybe it's a case of the guns (10.5bps) being slower in Europe which pushes people to take that extra bite. I'm not completely sure.
In the states, due to fields being longer, it's made the bunker spread bigger which increases gaps so you tend to see teams putting a guy in a barricade and giving him 10 pods to shoot through a gap which can reduce the speed of the game.
I think both leagues have their good and bad points. The reffing in the PSP can be a little bit more forgiving while the Millennium reffing can be absolutely cut throat but it's like that for everyone. I'm glad to be playing both leagues in 2012. It allows me to benefit from both goods that the two companies have to offer.
MC: Your 23rd birthday is coming up in February. Any big celebration plans?
JW: February is a very busy month for me. I head to the first PSP at the end of that month and possibly other places beforehand, and of course making final preparations in time before I fly out. I think I'll have a quiet 23rd birthday as my year is 100% focused on the season and achieving success.
MC: What are two of your major goals in professional paintball for 2012?
JW: I honestly think there are only two real answers for this one and that would be to win the series in both the PSP and the Millennium series. Every athlete should strive to accomplish this as what would be the point in sacrificing all the man hours you are required to put in?
MC: Professional athletes of many different sports take a break from their discipline to either cross train or just plain unwind. What other activities do you enjoy outside of paintball?
JW: It's strange because my season has been a long one this year (2011) and the break has been very small. The last couple of months I've been working out and preparing my life for what it's going to take to be part of two highly committed teams in 2012. I work long hours and when I'm home it's normally the only time I get to go to the gym/run so I do it then but I'm no stranger to a bit of gaming.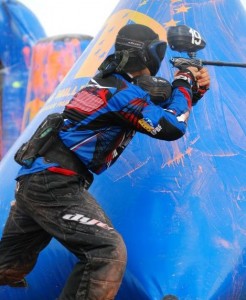 MC: Do you have any advice for people who aspire to be professional paintballers?
JW: You'll grow up with people around you who will support you, who will push you, and work with you to make you the best you possibly can be…but on the other side you'll get people who doubt you, who put you down, and generally talk sh*t. I'm not a stranger to having both of these types of people around me for 100% of my paintball career so far.
2-3 years ago I found it very hard to filter the bad and the good but the quicker you do, the quicker you'll progress past the point that the bad feedback or negativity will affect you. With that said, it doesn't mean hard work won't be required. Trust me, I think for the last 4-5 years I've never missed a team practice, I never threw away the chance to go to the field and practice because if you love to play paintball, while you're playing paintball, ability will follow. Can you think of many things in life that you can enjoy to achieve a goal? Most things are a pain in the butt to earn what you are looking for.
MC: 2012 is approaching fast, any New Year's resolutions?
JW: I think my resolutions tie into my 2012 goals, but in general, I'm looking forward to working with Max and the rest of the RL players and coaches as well as Pascal, Tav and the other TonTon guys.  I've admired both teams since I started playing paintball and to be playing on both in 2012 is a perfect turn of events for me, I look forward to it.
I very much look forward to it too Jason.  Those were some excellent answers to my questions.  Thank you again for being so generous with your time for this interview. I wish you the very best in 2012 and am delighted that you have chosen to play for Boston Red Legion. I'll be following your success closely throughout the 2012 season and cheering for you every step of the way.
Follow Jason Wheeler on Twitter: @JasonWheeler19
Follow Russian Legion on Twitter: @rl4you