It was late one evening when I got asked to write for Social Paintball. I was shocked by this offer but accepted it anyway. Well, for someone who has only been in the paintball world for a short time, I can certainly tell you that I have learned a lot. I don't know how much I could say that y'all don't already know; but coming from someone who is on the sidelines and is a girl, there are some things that are different.
It's been the three of us since December 18, 2010, Wes, Zach, and me. My first association with paintball on this level were tryouts for East Coast Mafia in Myrtle Beach, South Carolina. I will never forget those two days. It was way too cold to be doing this, in my opinion. I have never been so cold in my life, yet they went out and played. I could see their breath as they walked onto the field. I couldn't help but think the paintballs have to be almost frozen at this point, but they all went out and played, practiced, and drilled, each having fun and each with the desire to play and learn.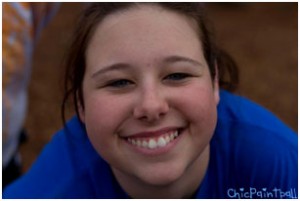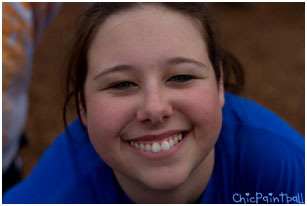 I wish someone would have told me a few things before I got into this. Don't get me wrong, my boyfriend told me a lot about this sport over the two plus years we have been together, but I still had some questions. The first thing would be the food; you do not eat much during a paintball weekend. I have noticed that you may get one good meal, and that's usually after the tournament on your way home. Another thing would be how hot, cold, or wet it is. They still play no matter what the weather…what drives them all, I see it, but can't explain it…and it's unreal and moving to watch.
Being in the paintball world and having a new team has given me the inside look of what a team really is. These guys are not only solid players, they are also friends. Yes, the game may come first but knowing that your friend has your back on the field – now that is a skill. You need to know that you can count on them to tell you the G-count and to bump up when they are needed to.
My guys have only played 8 tournaments with each other. Wes and Zach had an altercation with their previous team and Up State Army Camo picked them up.
Our first tournament with UP State Army Camo was Battle at the Beach. We placed 7th and that's not too bad considering we had never practiced together and it was kind of a throw together team. We "did work." From that tournament on, they have practiced, scrimmaged, and played their hearts out.
The tournament after that was Palmetto Open where we placed 3rd overall. For homecoming at Greensboro, we also placed 3rd. Because we placed 3rd in those two events, we earned our place the Tournament of Champions and the 3 man regionals because we had placed 2nd in two events. I have never had so much fun at a paintball tournament in my life. 3 man was not an easy win. They played and got into the finals by the grain of their teeth. We only made it because of points.  When the guys found out, they went out and showed them who the boss was. We won first place.
That Sunday was the CFOA 5 man TOC. We lost our first point to Bounty Hunters. We are really good friends with one of their players, Benji, these guys are some solid ballers. They beat us out which placed us in the losers bracket. This did not get them discouraged. It only made them player harder. We blasted through the rest of the teams. We were playing a game and our coach, David, came and showed me that we had to play this team two more times in order to win the whole thing. My guys did not know this. Once that game was maxed, they thought they were done. They had another thing coming. Wes and I had told them to pod and air up they had to go do it again. Not only did they dominate through the next game, they ended up winning the whole thing! I was so excited I started to cry along with Mrs. Nicole and the rest of the staff! Jumping up and down while celebrating, I found a mask and ran out onto the field to give Wes a huge hug and kiss. We picked up all the empty pods and took them back to the pits and made our way to the CFOA trailer to do awards. It ended up being a Greenville podium. All the home Greenville teams had one either first or second place.
I just want to say thank you to everyone I met and became friends with over this paintball season. I want to say thank you to my amazing boyfriend Wes for getting me involved with paintball and to my best friend Angel, who showed me that girls can be paintball players also. Michael Mohr, I especially want to say thank you for encouraging me to go out there and take pictures and teaching me that it is not just for the pictures, it is for the game. Wes, Zach, Cody, Ratty, Josh, Dylan, Mrs. Nicole, Scott, and David – thank you all for allowing me to be a part of the team and for teaching me everything I could possibly need to know about paintball. I hope to one day get more involved with paintball, not just Up State Army Camo's pod specialist and staff. I love you guys very much! You are my guys and I am so proud of y'all.