We are on the field battling it out for the win and some of us are gun battling, reloading, or ready to make that big move to advance down the field. You may have noticed that random guy or girl on the field with a big white lens and camera; perhaps they are wearing bright colors to the point that it looks like a traffic cone standing out.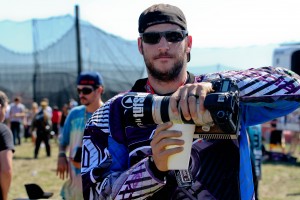 Photographers and videographers have made a definite impact on paintball culture. Their artistry is an integral part of advertising promotions, coverage of your favorite pros in magazines, and is often included in a monthly magazine issue at some point. Without their love for the sport, interest in spending their time, creating friendships, and sometimes enduring tough times while working on those fields, we, as paintballers, would not exist to the outside world. Everything helps spread the word to make this great sport grow.
I've heard many questions asked of the media including how much they make, what kind of camera or lens they recommend to take paintball images, what to wear, and many more. One of the great things about the internet is that we may gain access to the answers to these questions on Social Paintball, or a popular photographer's links such as Gary Baum (http://www.pbgen.com/tips.html), and more. Even when you ask the media, they are more than happy to help you out. Most of the media doesn't earn as much money as you might think they do when capturing the amazing images of paintball. I am a photographer myself and after travel costs, bringing proper equipment, and taking time off from work, it really adds up. I personally do this to be with friends, meet new people, watch the sport, capture memories, and create new
experiences.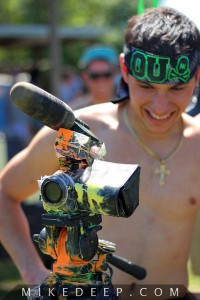 Unfortunately, as you can see, we do have some downfalls that can slow us down and cause us to maybe miss a few games or prevent us from getting those action shots. The media sacrifice expensive equipment that can often cost hundreds of dollars to repair and sometimes even more. Keep in mind that they do not sacrifice just their equipment to get specific angles to capture great footage or pictures. This is where videographers earn a multitude of credit because they might take 10+ paintballs hits on their body as well as their camera just to get that awesome shot of you, a player doing a run through, or your crazy dive. With heartfelt dedication they will film many games with numerous points so the number of hits both the sports photographer/videographer and their equipment takes can be intense. I sometimes come home after a 3 day event with 40+ hits on my body. We don't mind taking the hits as it's just one of the sacrifices we take in our line of work to capture that moment that will last forever.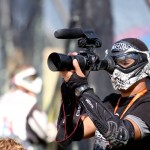 One final note is that editing takes all the media members a lot of time to make sure the images or video look their best. Please be patient. We take great pride in our imagery and work hard to get the images uploaded as soon as we can. On average, most photographers and videographers take 5-7 days to get all images and video uploaded. If you did not personally hire a media member, please do not be upset if they did not get many images of you. Just know they did their best in trying to capture images of everyone they could in the time they were given.