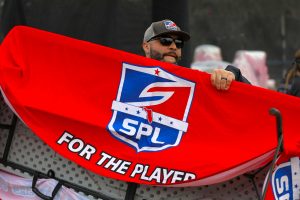 Founded in 2009, Social Paintball quickly became the industry's number one independent source for videos, editorials, and news. After years of traveling the globe establishing ourselves as the voice of paintball – interacting with, playing along side, and listening to paintball players of all skill levels – we realized there was a need for fine paintball gear that put the player above all. Out of this was borne the phrase "For the Player" which has become the foundation of our mission statement as an organization.
Today, in addition to continuing our legacy as an innovator in paintball media, Social Paintball is proud to feature our brands including SMPL, FLEX, GRIT, HONOR, and LOYALTY. Products under these brands include high quality paintballs under the GRIT, HONOR, LOYALTY brands, and playing gear such as our GRIT v3 Pants, SMPL Jerseys, FLEX Jerseys, and GRIT Gloves and Harnesses. With the mission of providing players and fields a positive experience ordering customized gear, we pride ourselves on superior customer service and excellent graphic design.
Through our media and gear services, we are proud to have helped fields, stores, individuals and teams achieve their goals while not having to worry about the quality of their gear or promotional media. Thank you for your support! Without you we would not be where we are today.
That is why we always say FOR THE PLAYER®.
An Incomplete Timeline of Social Paintball (unfinished list):
January 2009 – The idea of Social Paintball is born while out to lunch. Later that week, the name is created and the idea of being a video sharing platform for paintball is dreamed up. A website and logo are then design.
February 2009 – Attended the Paintball Extravaganza and began filming interviews.
Feb 12, 2009 – The first video is uploaded to our YouTube channel.
Mar 1, 2009 – Attended the PSP Phoenix Open in Arizona. First time filming at a Pro/National event.
April, 2009 – Attended the NCPS National College Championships. First time filming at a college event
Apr 27, 2009 – Our first viral video on YouTube (Wal-Mart's Paintball section).
October 2009 – Attend our first PSP World Cup event. First to upload HD videos for free online.
2011 – The idea for a five event tournament league with a professional standard in Florida is born.
2014 – The SPL (Social Paintball League) is born and the inaugural event is held at Gator Paintball.
2015 – The first full season of the SPL is announced.
2019 – 10 Year Anniversary of Social Paintball.