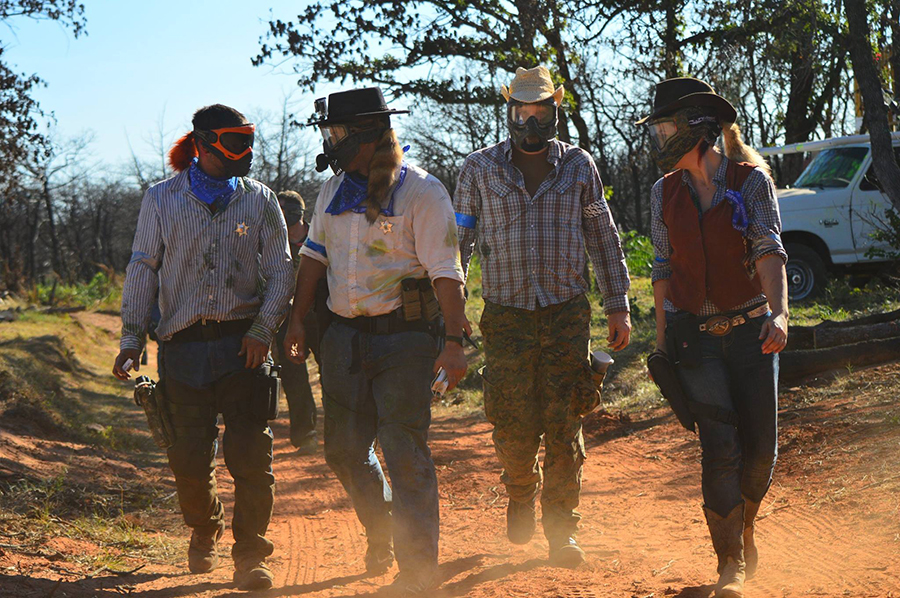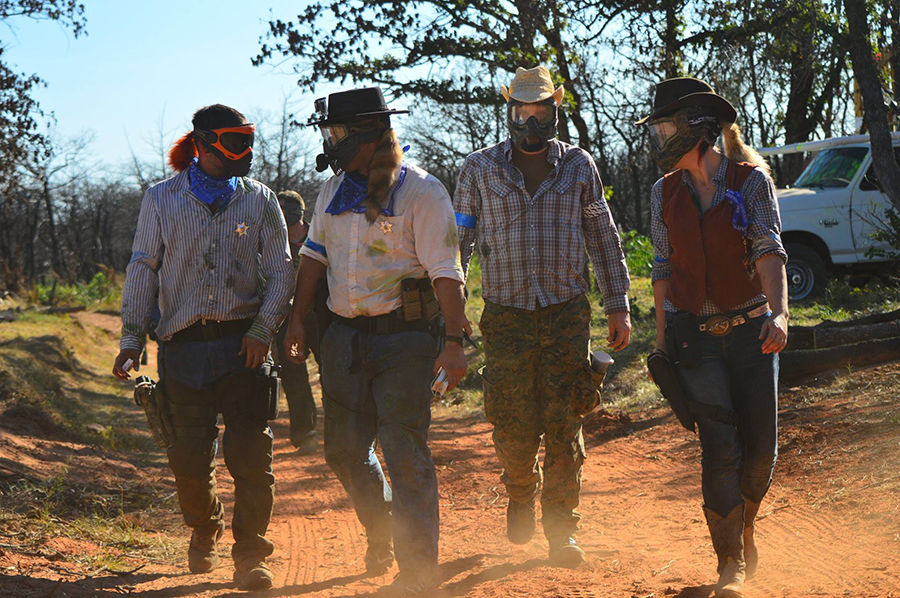 Ryan Gray is one of the hardest working men in paintball. As owner of Avid Extreme Sports he's been a coach, manager, pro team owner, retailer, distributor,—you name it—and he'll still pick up a marker and shoot you, too. If it involves paintball, Ryan has done it, which is why it didn't surprise me when, in May 2013, he acquired Adventure Zone Paintball just outside Oklahoma City and rebranded it the Avid Extreme Sports Park. He immediately began improving the field, and shortly after Viper added it to his annual schedule, hosting the field's first scenario, "Operation: Urgent Fury", in October 2013. The turn-out was small but the response was positive. Then, in May 2014, disaster struck. A controlled burn on a neighboring property flared into a raging wildfire that consumed 6 homes, 3,000 acres, and 5 of Ryan's 8 fields. The castle and office survived, but many obstacles and much of the underbrush were torched. Not to be daunted, Ryan made some tough decisions, including the disbandment of Texas Storm for the 2014 PSP season, and began rebuilding. Now, with help from close friend Ryan Sexton, who moved all the way from Oregon, the AES Park has not only bounced back but launched forward. The new jewel of the park is a sprawling Wild West town featuring two-story buildings, a saloon with an actual bar, and artistically painted signs.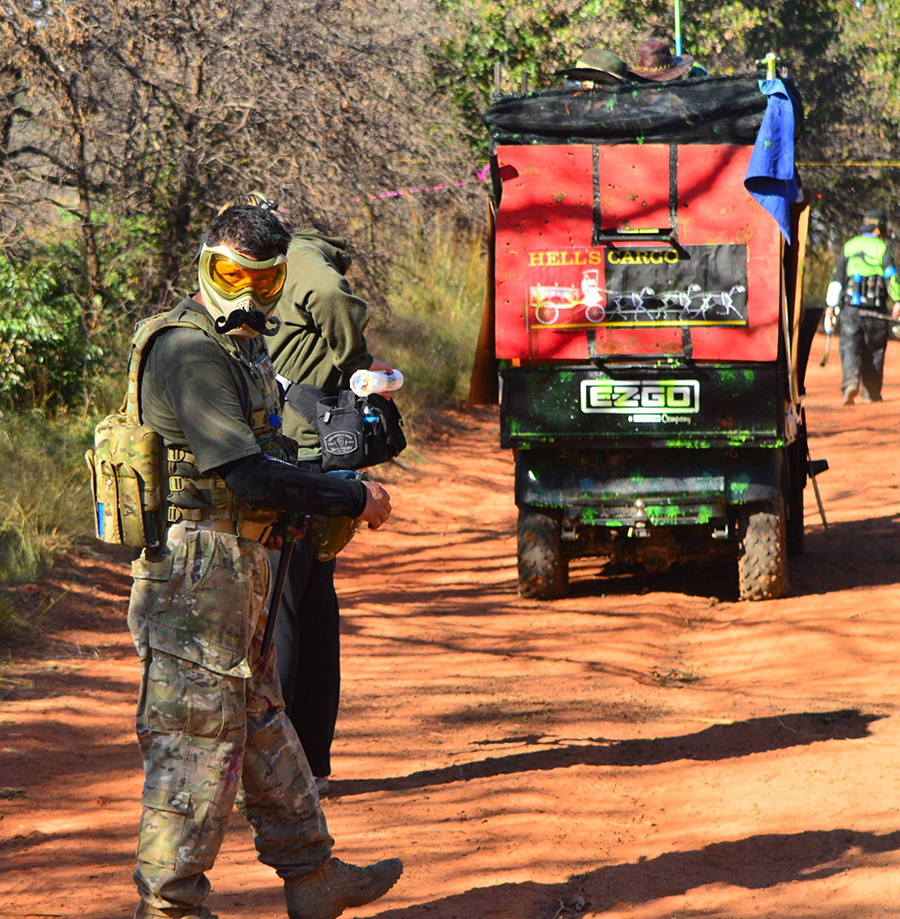 The second annual Viper scenario, "Tombstone", held on October 4-5, 2014, was the ideal event to debut the new town. I drove from Houston up to Guthrie with two of my teammates to see it for myself. We rolled in late Friday night and immediately joined the bonfire party at the Aztec Warrior camp. There we met some of the guys and gals from B.O.B. White Paintball who showed up to party in full cowboy attire. Normally, we would only see the Nebraska-based B.O.B. White players at Living Legends, so the mix of South West and Midwest teams was a welcome variety for us.
Saturday morning was chilly but the sky was clear and the sun was beaming. The game pit the Earps (blue), under the command of Troy Knapp of Fox Squad and John "AJ" Dormer of the Hellions, against the Cowboys (red), led by Scott Dwyer of IYAOYAS and Mike Offerman of the Kansas State University Paintball Club. In addition to his own Fox Squad and AJ's Hellions, Troy's posse of Earp lawmen included the Aztec Warriors, Third Reich Army, Hand of God, Lasiter's Lancers, Texas Light Infantry, and more. Scott and Mike had unruly Cowboys from B.O.B. White, K-State, Iyaoyas, Texas Headhunters, and others. Each side had one tank, but H.O.G. went all-out turning their signature bright orange Azreal into a replica Wells Fargo stage coach, complete with a stuffed horse leading the way.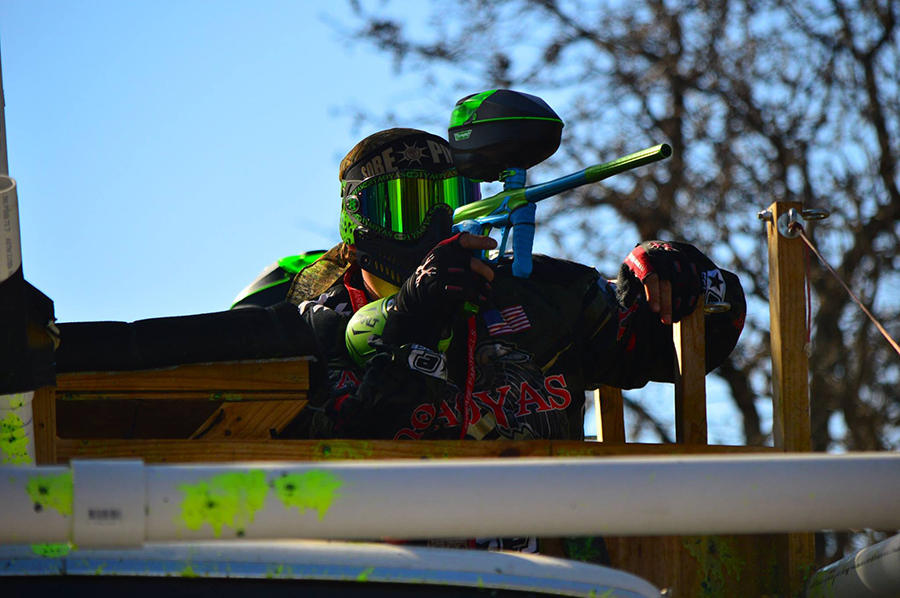 The forest in that part of Oklahoma is different than the Piney Woods where I'm from, so I was curious to see how it had recovered in the 5 months since the fire. As often happens with brush fires in dry climates, it looked like the flames had raced through the carpet of leaves and undergrowth, barely touching the trees, which is actually good for a forest in the long run. That's the whole reason people do controlled burns to begin with. As expected, fast-growing leafy plants had sprung up everywhere. Part of the park was still being rebuilt after the fire, so the actual playing field was a long rectangle running roughly north-south. Initially, I was concerned that the bases were too close, so my teammates and I planned to rush the enemy base off break and intercept any Cowboys attempting to do the same to us. The thick, shadowed woods slowed down our attack so we spent the first few minutes of the game ambushing stray Cowboys. After that, there was very little direct base-to-base action as most players were drawn south to the town. As always with Viper games, the missions flowed quickly and with objectives strewn about everywhere we stayed busy. Again-and-again I found myself leading small groups on multi-objective patrol missions or take-and-holds in the town. Patrols were especially nerve-racking because as we moved westerly into enemy territory we encountered an incredibly thick, chest-high plant called sumac that had virtually exploded after the fire. The purple-berried bush has large green leaves that so completely obstruct view that I felt like I was hacking a trail through a Burmese jungle. The enemy learned to use the dense vegetation to lay ambushes, sniping at us from hidden positions every route we took. Pretty soon, I was imagining the enemy behind every waving leaf. At one point, I found myself face down in the sumac, exchanging jokes and pot shots with a young lady from B.O.B. White. We laughed about sore feet and cramping leg muscles until she finally snuck a shot on me through the leaves.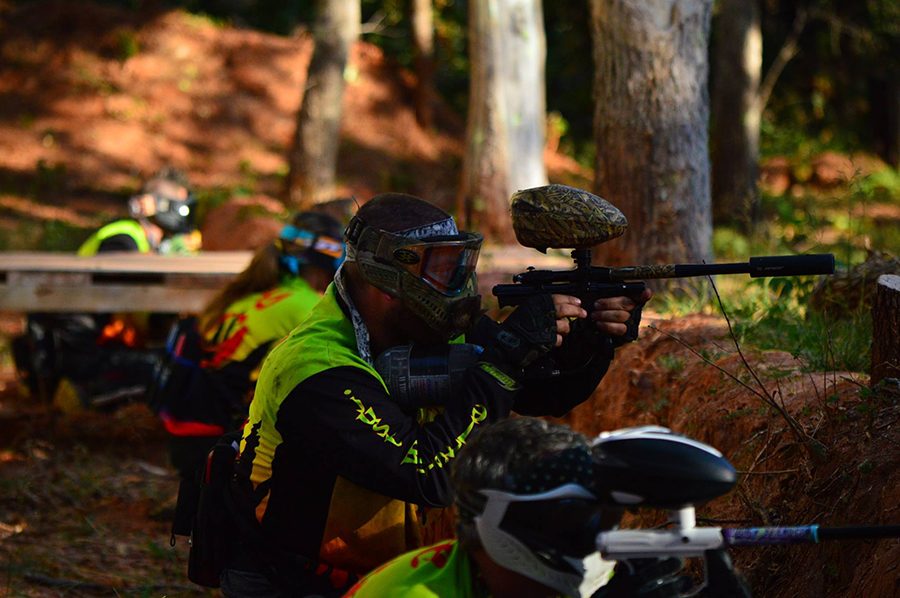 Once I'd had enough of getting bushwhacked in the sumac, I took a string of take-and-hold missions in the town. The Cowboys had a big, full-sized pick-up with a wooden structure in the bed they were using as an armored stagecoach, and when it rolled into town there was hell to pay. They must have had 6 shooters in the back hurling anguish at everyone, but the skilled NERF herders of the Lancers and Aztecs kept shoving the truck back out of town. Two of the key special roles in the game were Gunslingers and Gamblers. A Gunslinger was armed with only a pistol, and anytime he saw another Gunslinger he could challenge him to a quick-draw pistol duel, even in the middle of a gun battle. In similar fashion, Gamblers could call each other out to wager game coins on the duel. True to the theme, one Gunslinger from Canada was even armed with a Dukie DRV, which is a rare, functioning paintball revolver. Throughout the day, there were several hilarious duels right in the middle of town. In lieu of night play, a dinner battle was held on the castle field. One side defended the castle while the other attempted to attack across the field and snatch 3 bandanas from sticks arrayed across the face of the moat. Through excellent coordination, the Cowboys were able to grab the bandanas and gain some ground on points.
On Sunday we switched sides, and the Earps got a late start. At game-on, there were only 10 of us at the base. Our first mission was a take-and-hold on the Lost City—a cinder block field south of the town. Unfortunately, our sorry little squad got there just seconds behind the Cowboys, and we had no luck ejecting them from the stone bunkers. It was clear the Cowboys had shown up hungry that morning, and we suffered those first 2 hours until blue reinforcements finally arrived around 10:30.
The Cowboy commanders were coming close to perfecting a trick they'd learned Saturday. In this game, instead of choppers there were Horse Riders— players galloping around on stick horses. As long as they kept trotting, they could not be shot by regular players. The Cowboy commanders had their Horse Riders running around with dynamite, either blowing up objectives or attacking our base. Sometimes they rode in formation, like a posse right out of a Wild West flick. Those galloping horsemen were able to surprise and upset us several times. But once reinforcements arrived, the Earps were able to gain a foothold in the town. We took one building on the western side of the road, and from there expanded our position building-by-building until we owned that entire side of town. A battle then raged across the main street, paint flying through doorways and windows. I spent a lot of time stuffed into corners, dodging ropes of paint and counting time off the mission clock. I grabbed my camera for the last half-hour of the game, just in time to watch a table full of gamblers and gunslingers playing a heated game of "Go Fish" right in the middle of the battle.
Final battle was once again held on the castle field, and since the Cowboys had beaten us the day before I was a little uneasy about our prospects. We started out defending the three bandanas. Everyone piled into the castle except 5 of us who crawled into the moat. My buddy Aki and I, caddies filled with paint next to us, divided the right side of the field into zones and like frontiersman surrounded by natives we prepared to hold out until the bitter end. We held the attackers back right up until we both ran out of paint and air, and in the last seconds the Cowboys rushed en masse and grabbed the bandanas. It was our turn to attack next, and with no paint left I decided to run for bandanas. Troy had us throw smoke grenades down field at the start, which worked well, allowing us to advance and stack players at virtually every bunker, but the Cowboys held their lanes and cut us down.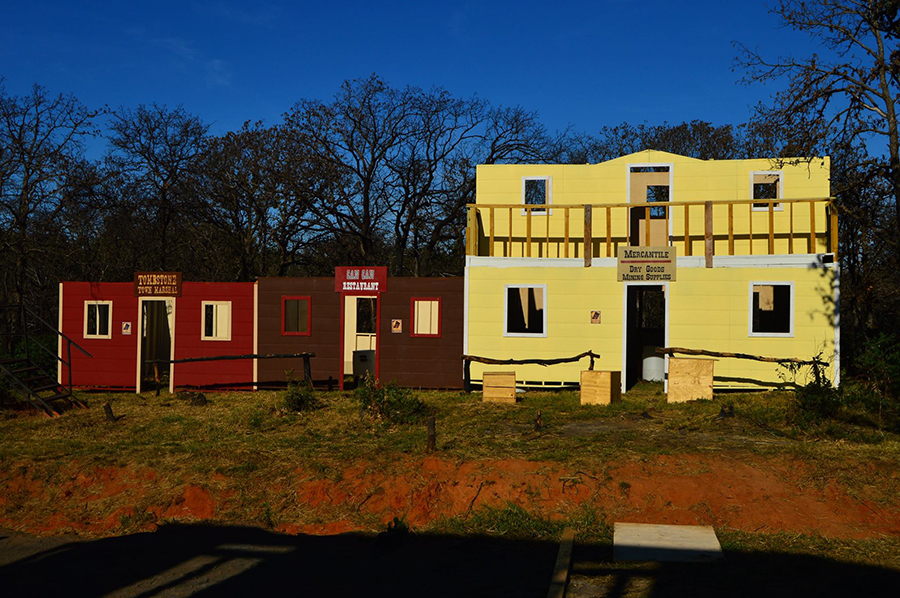 At the closing ceremony, blue and red mixed together and the mood was light. As it turned out, the Cowboys had clawed all the way back on Sunday bringing the entire game down to final battle, which they won. With those 50 points they pulled ahead and beat the Earps 1,055 to 1,030. It was a legendary comeback, especially considering that Scott and Mike had just taken command Saturday morning. With the final turn-out at more than double the prior year's, everyone agreed it was a great success. Ryan took the stage to get our opinion on holding another Tombstone scenario next year, to which we all roared in approval. He also assured us there would not only be toilets but showers by then, truly a scenario player's dream. I never doubted him, so when he called a week later to tell me they'd broken ground on the new facilities, I wasn't the least bit surprised.