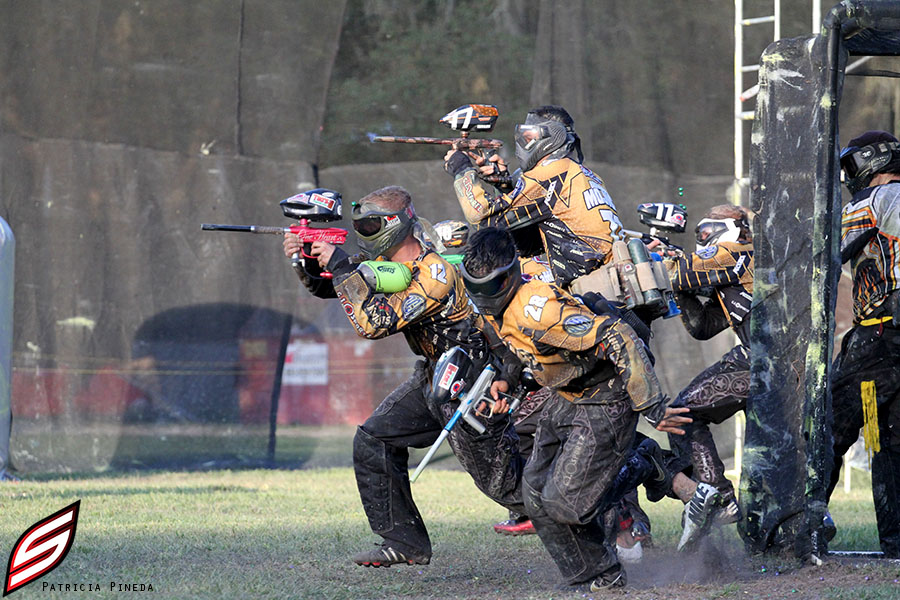 Social Paintball would like to congratulate the University of Central Florida Golden Knights for winning the 2014 NCPA Collegiate Xball National Championships, defeating the University of Connecticut Huskies with a final score of 14-6.
In their first year competing in the Collegiate Xball division the team, comprised of divisional players ranked D4-D1, swept the tournament, winning all of their preliminary matches against Cornell University Big Red (10-4), East Carolina University Pirates (11-3), and the West Point Black Knights (13-5). On Sunday they played a rematch against West Point, winning again (11-4), which put them in a semi-finals match up against Florida Atlantic University Owls, who they defeated (7-5).
In the finals UCF was pitted against the University of Connecticut Huskies who finished the event going 3-2. Other than missing out in the finals, UConn's lone loss came at the hands of the Fresno State Bulldogs (10-7) during their first game of the event. UConn's wins came against the California State-Long Beach 49ers (11-8), a perennial NCPA powerhouse, in the preliminaries; which they followed up with a win in a rematch against Fresno State (9-6) and the Temple University Owl (5-4) on Sunday.
Central Florida's Zak Daughtry had this to say on their win:
Being our first year in Class A, we were definitely excited to see how we stacked up against the rest of the country. We're very fortunate to have a solid roster of experienced players that all pull their own weight, which was probably our biggest strength this event. In the finals match against UConn we took what we learned from the mistakes we made in our semi-finals match against FAU and made the necessary adjustments.
When further probed about their game plan, Daughtry offered:
Against FAU we started dropping points when we sat back and tried to play a defensive game, so we knew we had to do the opposite against the Huskies. Our game plan was to keep them on their toes with strong lanes on the snakeside and get to the 50's every chance we got. Overall, this event was such an incredible experience and we are definitely looking forward to come back strong next year.
In the other divisions (5 man RaceTo-2 and High School 3 Man), the North Carolina State Paintball Club defeated the State University of New York Oswego Rush (2-0) to take the Collegiate RaceTo-2 Championship, and the Cooper City High "Harry Potter Alumni Club" defeated the Venice Indian's (2-1 final), who entered the finals as the favorites after sweeping their preliminary bracket against Cooper City High, Creekview High, Matoaca High, and Atlanta Vengeance.