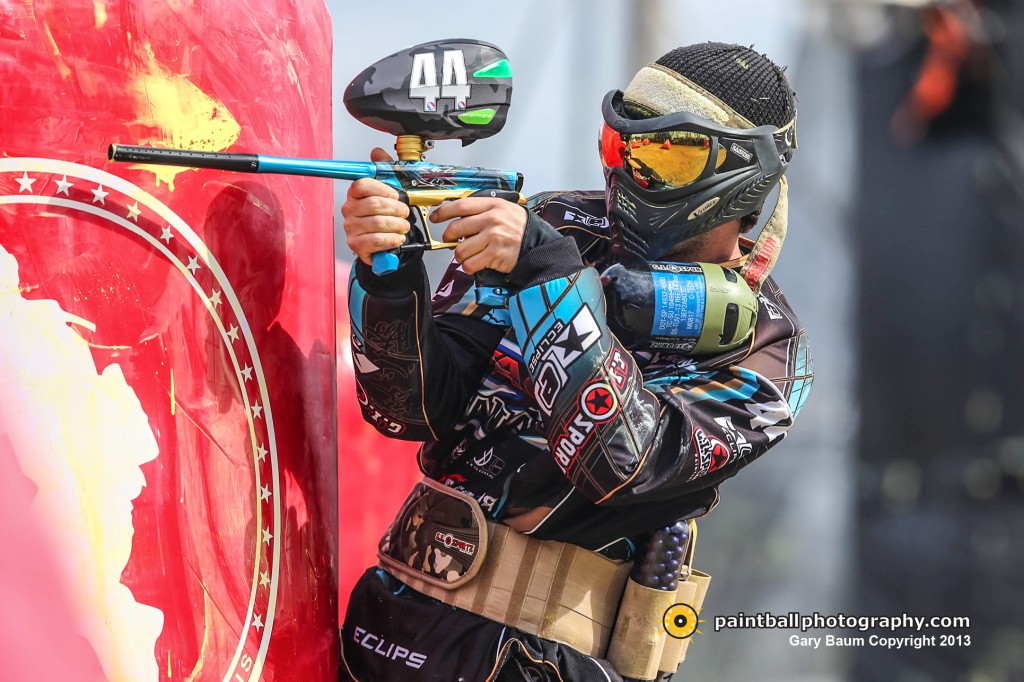 After a soggy Saturday afternoon, the preliminary rounds of the 2014 PSP Dallas Open has concluded with the following teams making the Sunday cut in the Champions Division:
San Antonio X-Factor vs Omaha Vicious
San Diego Dynasty vs Los Angeles Infamous
These four teams will compete to play for one of the highest prizes in paintball – a PSP title. Currently, San Diego Dynasty and World Cup Winners San Antonio X-Factor (who had 2 stunning come from behind victories) sit atop the leaderboard, each going 4-0 in the preliminary rounds, with a 3.25 average win margin apiece. Trailing just behind them is Infamous who finished 3-1 with a 1.75 win margin, with Omaha Vicious finishing 2-2 with a 0.5 win margin.
In a stunning turn of events, perennial powerhouse teams Tampa Bay Damage and Houston Heat will be playing each other in a relegation match, to see who will not be playing in the Champions division next event. Also included in the relegation battle is Texas Storm and Chicago Aftershock.
The Challengers Division has seen a few teams pull away from the pack, leaving the rest in their dust, and making the Sunday cut:
Art Chaos vs Sacramento XSV
Upton 187 Crew vs Houston VcK
Art Chaos has appeared absolutely dominant this event, winning all four games with an average win margin of 6.25 points. The nearest team to them is the Upton 187 Crew who finished 3-1 with a 3.25 point margin. Newcomer Houston VcK has been very impressive in their professional division debut, winning 3 games against the Moscow Red Legion, Trenton Topgun Union and Seattle Thunder. Their lone loss was to Art Chaos, where they posted more points than any other team did all weekend against the Russian powerhouse (2).
Finals begin tomorrow morning at 8:00am CST sharp!