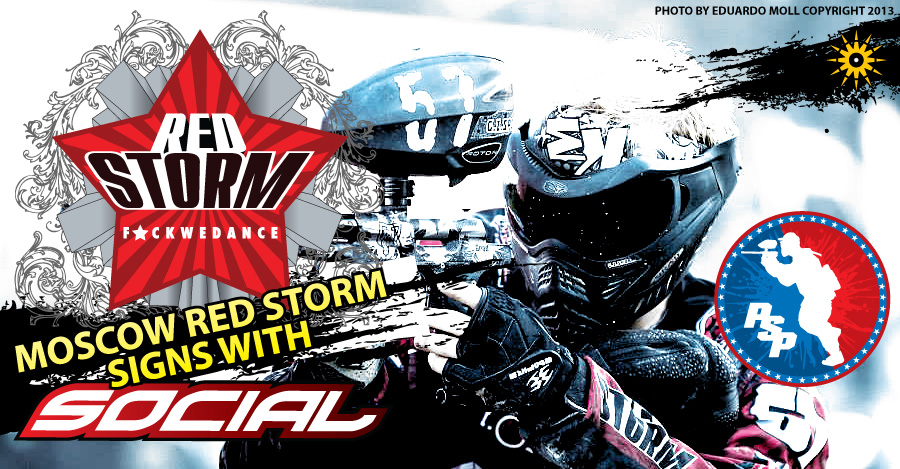 Tampa, FL – Social Paintball is proud to announce that the professional paintball team Red Storm, of Russia, has agreed to a one year contract to wear Grit Paintball pants, and custom jerseys. Israel Lagares of Social Paintball stated:
"We are incredibly excited to partner with a team the caliber of Red Storm. As one of the premiere international teams in the game, they have a proven track record of success and we feel that they have the potential to take the PSP professional division by storm, both literally and figuratively. This marks an important step for Social Paintball and the Grit line in that you'll be able to see our brand not only on the sidelines documenting the game, but on the field, in action as the title sponsor for Red Storm.

We look forward to seeing Red Storm on Sundays!"
Red Storm, based out of Russia, has been in operation since 2006, with many members playing under the Grad Moscow name from 2009-2013. With Grad, the team made the podium at various PSP events, and finished first in Division 2 during 2011. In 2013 the team returned to their roots, competing as Red Storm, finished on the podium at all but one event, and ended the season with a second place finish at the 2013 World Cup. Along with members from Russia, Red Storm has also added several American players, formerly of the Florida King$.
Team Roster:
1. Alex Kaplun (captain)
2. Sergei Sokolov
3. Sergey Rozhnikov
4. Yan SamoyLove
5. Alexander Galka
6. Vladimir Gorbovskiy
7. Eduard Virachev
8. Dmitriy Berdnikiv
9. Konstantin Shipov
10. Slava Ziugzda
11. Dylan Hopkins
12. Brandon Rittinghouse
Alex Kaplun, captain of Red Storm was quoted as saying…
"Every time we step on the field we recognize the responsibility that falls on us, be it at an event, or in practice. We will be putting forth every effort this season, with the goal of success for our fans, sponsors and partners."
Along with custom jerseys, pants, and other apparel, Social Paintball will be following Red Storm throughout the season and providing fans with full access to the new team. Other sponsors include PaintbalPhotography.com, Bob Long Technologies for markers, KM, Energy Armor, METRO, MX-Trading, KEE Action Sports for paintballs, Virtue Paintball for masks and hoppers and Critical Paintball for pod packs.
Kaplun also stated:
"We would also like to thank our Russian friends and partners who are supporting the Red Storm in 2014: Mikhina Sergei Olegovicha, Energy Armor Russia and paintball club Metro."
You can find more news about the team, players and tournaments, on the official Red Storm page on Facebook, as well as Socialpaintball.com and Firegroups.ru.