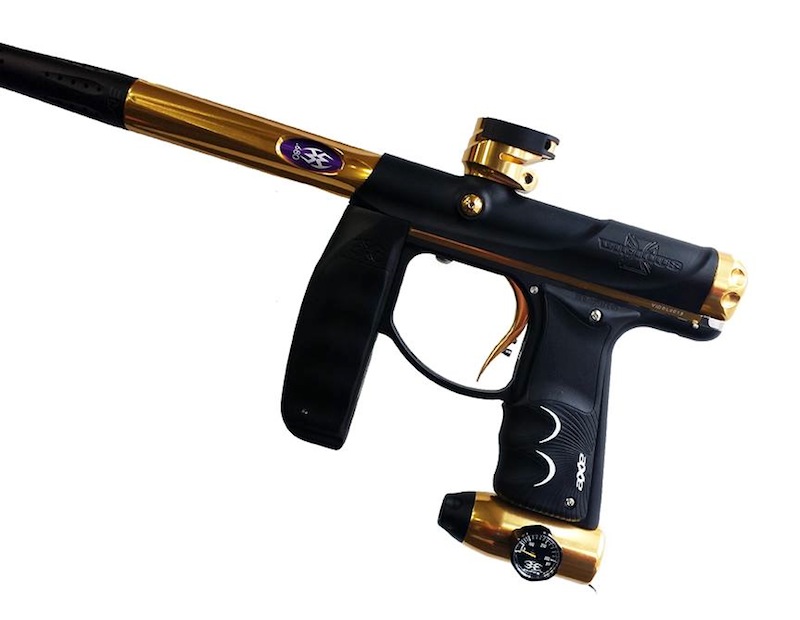 Over on PBnation.com, Omaha Vicious has released photos and details of their private label Empire Axe. The release states:
————————————————————————————
VICIOUS is excited to debut the 2014 VICIOUS Axe, fully loaded with upgraded feedneck, Redline foregrip, Super Freak barrel system, and soft marker bag that can hold everything you need including gun, barrel, inserts, tool kit, etc.
Available in 6 standard colors and various color swaps, everyone is bound to find a VICIOUS Axe they like!
VICIOUS Axe Features:
• Custom body milling and limited edition colorways
• Empire soft-sided marker bag included
• Redline foregrip with OLED screen and joystick interface
• Super Freak 5pc barrel kit with .680, .685, .690 bore sizes
• Unique Push Button Bolt Removal System For Easy Maintenance
• Empire Relay Regulator/ASA with ON/OFF Lever Makes Tank Removal a Breeze
• Extended Grip Frame and New Grip for Increased Comfort
• Magnet Returned Bearing Trigger Offers Smooth Firing Action
• Integrated Break Beam Anti-Chop Eyes Eliminates Chopped Balls
• Outstanding Velocity Consistency Offers Performance You can Depend On
• Low Pressure Operation is Gentle on Paint
• Through Grip Air Transfer Means No Hoses to Crimp or Break
• New clamping feedneck gives a new look with increased durability
And now we introduce our Black/Gloss Gold VICIOUS Axe, where we pay homage to our original VICIOUS colors.
————————————————————————————
Personally, we love the red. Which is your favorite color combination?