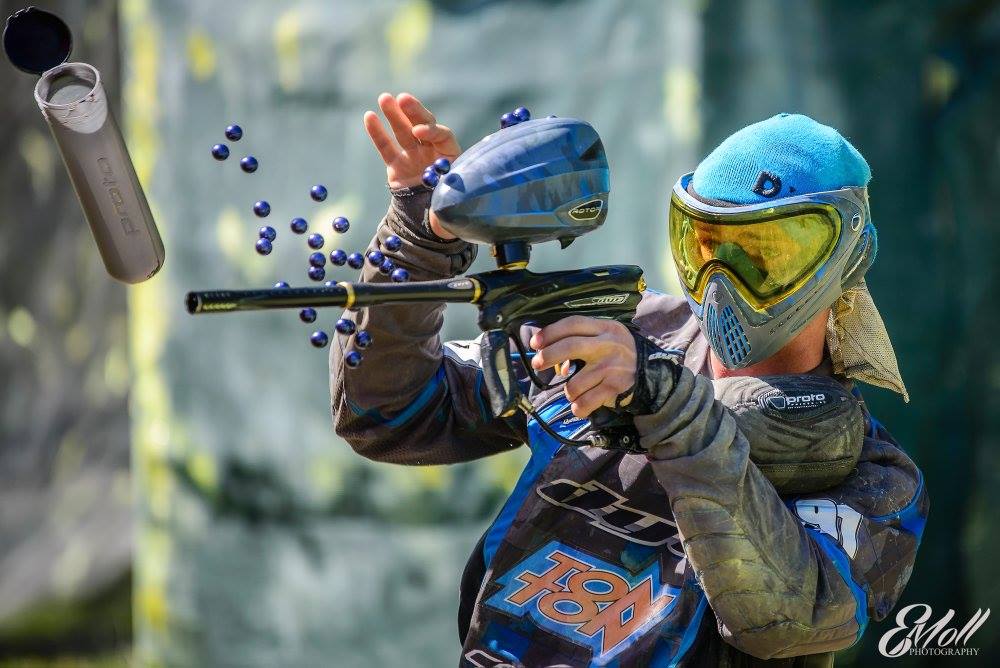 In November it was announced that Fedorov, Kniazev, Solnishkov were leaving Houston Heat to join European paintball powerhouse Art Chaos Moscow. Now, Axel Gaudin of the TonTons and Clint Moore of London Nexus, have been signed to Art Chaos for the 2014 Paintball Season.
Gaudin made his debut in the PSP in 2012 with Russian Legion and was one of the nominees for Rookie of The Year. He was a force to be reckoned with because of his over-zealous and balls-to-the-wall snake player attitude. Gaudin's in-game style looks far beyond his years and has already created a name for himself in the industry rapidly.
In 2013, Gaudin played for the well known team from France, TonTons. TonTons ended up winning the 2013 Millenium Series. Gaudin will be joining forces with whom may say are the a few of the best players in the world: Konstantin Fedorov, Mishka Kniazev and Sergei Solnishkov, previously from Houston Heat.
With that being said, Clint Moore will also be joining forces with this already mouth-watering roster. Moore is from Great Britain and has been playing paintball for eight years both in the Millennium Series and participated in a few PSP World Cup events as well. In the 2013 Millenium Season, Moore played for London Nexus and they ranked #4 overall in the Millennium Series. Moore is a very intelligent player and along with the others, will have even more opportunities with his new team upon playing the 2014 paintball season.
Art Chaos has a staggering roster thus far and is one of the most anticipated growing stories in the paintball industry. Axel Gaudin will contribute to this teams talent with his already proven talent, speed, and winning series under his belt. Additionally, Clint Moore will be bringing his experience, knowledge, and impressive gun skills. Don' t break your neck with this head turning team and growing paintball story.
The team announced the roster today via a press release early Monday morning.
—
The owner and management of Art Chaos Moscow is please to announce the 2014 season roster:
Sardarov Sardar
Berdnikov Alexander
Fedorov Konstantin
Knyazev Mikhail
Panteleev Vasiliy
Solnyshkov Sergey
Lukashuk Pavel
Zakharov Evgeniy
Moore Clint
Gaudin Axel
Karsliev Pavel
Lazarev Roman
Maxim Preobrazhenskiy – Coach
"We are quite pleased with the new roster and have positive expectations for the team this year. Each member of the team is a very skilled and talented player that we are quite sure that will help with the overall composition of the team. This group of players is hard working, very focused and hungry for the win." – Art Chaos manager – Olga Rumyantseva
"Playing with Art Chaos is going to be an exciting challenge, playing along side some of the best ballers in the world and great coaching staff. This is a great opportunity for me and I'm looking forward to all the challenges and achieving great things. " – Clint Moore
"I'm really excited to join the Art Chaos family. The team has been dominating professional paintball over the last few years in Europe and I can't wait to be a part of the team for the 2014 season! This is an incredible chance for me and I will give 110% on the field to help the team win matches, events and series!" – Axel Gaudin.
You can follow the team via their official Facebook Page – https://www.facebook.com/artchaosmoscow as well as their official Instagram @artchaospaintball
Photo: Emoll Photography