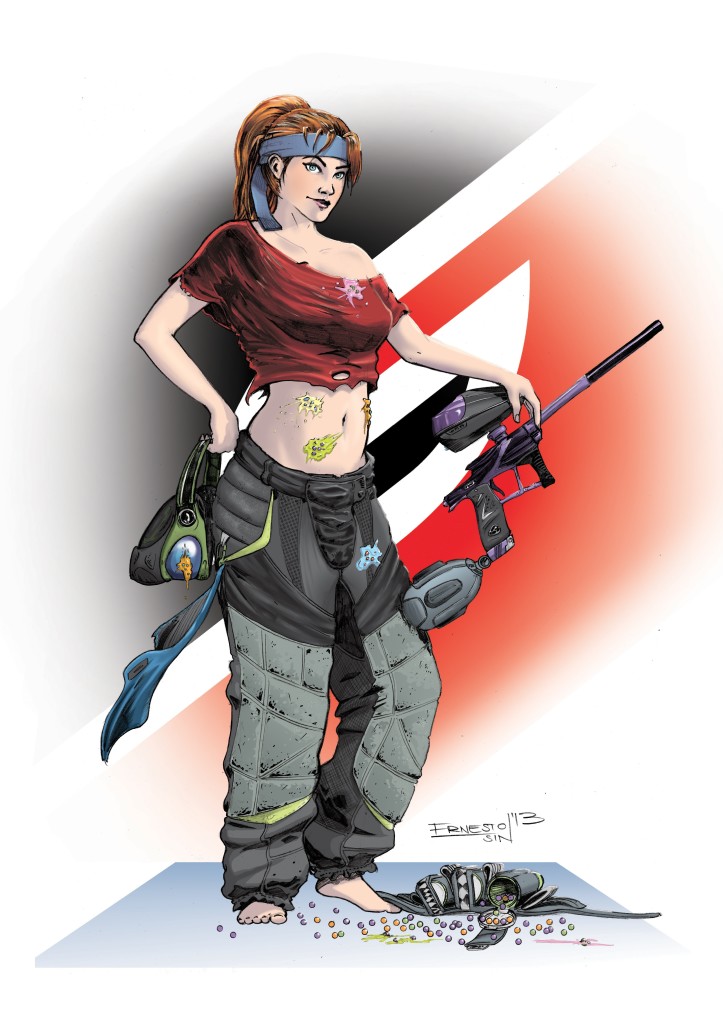 I love paintball. I love art. I love paintball art. It doesn't matter if it's pencil, charcoal, paint, digital, or any other form, I'm fascinated by the creative ability and the application of that ability when it comes to paintball. I was recently perusing the Social Paintball Facebook page when I noticed that someone had posted some art. I immediately contacted Ernesto and set up an interview with him. This young man has a bright future ahead!
SP: So, introduce yourself and tell me a little about what you have going on.
ES: My name is Ernesto Sin. I'm 21 years old. I was born in Puebla, Mexico. We moved to Spain for about three years and moved back to Aguascalientes, Mexico. It is a little city right in the center of the country. Right now I live in Dover, NJ, USA because I'm studying my 3rd and last year at "The Kubert School."
SP: Let's get the customary question out of the way. How long have you been playing paintball, what got you into it, and what gear do you use?
ES: I've been playing paintball for about 5 or 6 years. Like any other kid, one of my friends decided to go to play paintball and I got invited along with a bunch of other friends. That was at the age of 15. It was my first time and of course I was a little bit scared because "it hurts" or whatever, haha. I remember I was wearing knee pads and those soccer shin pads to protect my legs plus two shirts and the vest they would rent, haha, but when I started playing, you know, my first time, hiding in one of the bunkers and feeling that little fear and adrenaline rushing…it just made me want to do it again and again! And with time I started becoming more confident and I got used to the paintball hits. So, eventually I would just play without any vest and stuff. The owner of that field plays speedball and that got me more into the actual sport. I would hang out with them and I would go to play on Saturdays with his team so I would train also and little by little started buying my gear such as, my Exalt pants, I have a Pro Axis mask, Eclipse elbow pads and such. My first gun was a Spider MR1 which I still have and love, hahaha, but recently I bought a Planet Eclipse Etha and it just feels so good.
SP: What is it about paintball that has drawn you in (pun intended)?
ES: I would say it is the little explosions of adrenaline that keeps me playing. Every time I run from one bunker to another, and of course shooting as much paint as I can. The sound of all the markers together shooting paint all over the field is just awesome. What I most like about it is looking at my own paintballs traveling from one side of the field to another, and actually seeing that you hit a player. For me it is just one of those slow motion moments in my head…everything turns so slow for that half a second…it is just awesome, hahaha. And well, it is a plus on my list that I like to wear all that playing gear. You know, the pads, the pants, swabs on my pockets, the mask, the pods, and well it may sound dumb, but I really like the smell of the actual paint. 😛
SP: What are some of your other passions?
ES: I like sports in general. I love paintball the most but right next to it, soccer is one of my passions. My father played professional soccer back in Mexico for about four years. He payed his college by playing and well, I guess he shared his passion for soccer with me and my brother and we have been playing since we were little kids. Later on I was introduced to paintball but I talked about it already, haha.
In general, visual media or visual arts have always caught my attention. Movies, photography, paintings and all kinds of visual art I would say. I've been drawing since I was a little kid, nobody told me how or what it was to draw. I just started doing it as far as I remember. And I really liked it. I started doing it more frequently in high school and eventually I decided to go for narrative art and comic books. To tell a story with art was just such an amazing thing and I really wanted to be good at it!! But it was a tough decision since I love films and making movies, also. I had cinematography classes in high school and after graduating I went to some film workshops and photography classes because I really like it! I edit videos in my free time too, any kind of videos. That is something I enjoy doing, I find the whole recording process to the editing process very enjoyable.
SP: I'm an artist myself and am always intrigued with what drives other artists. What drives you and why art?
ES: To me, creating something out of nothing, from a blank paper to a battle scene, is just something I found really interesting. When I see something real coming out of a 2D paper I feel that amazement in my head! The more real it looks the better it is, in my opinion of course, so when I found out that I also could do it, and little by little becoming better and better at it, I just kept going and drawing. Studying from life, how things work, living things, mechanical things, environments. That is the only way to do things the right way, and it takes a lot of time, not days or months but years!
I found out that by doing this, I have to know a little bit out almost everything! Since in order for something to become believable, it HAS to look believable, real, alive. And the more I do this, the more I get used to noticing the little details on almost every place I go, it has become a habit and I really like that because I feel that I'm constantly learning. Everything has pretty much become a learning experience to me. Same thing with film making. You see things that you find interesting and by recording them, you analyze them, you see them over and over and you learn from them.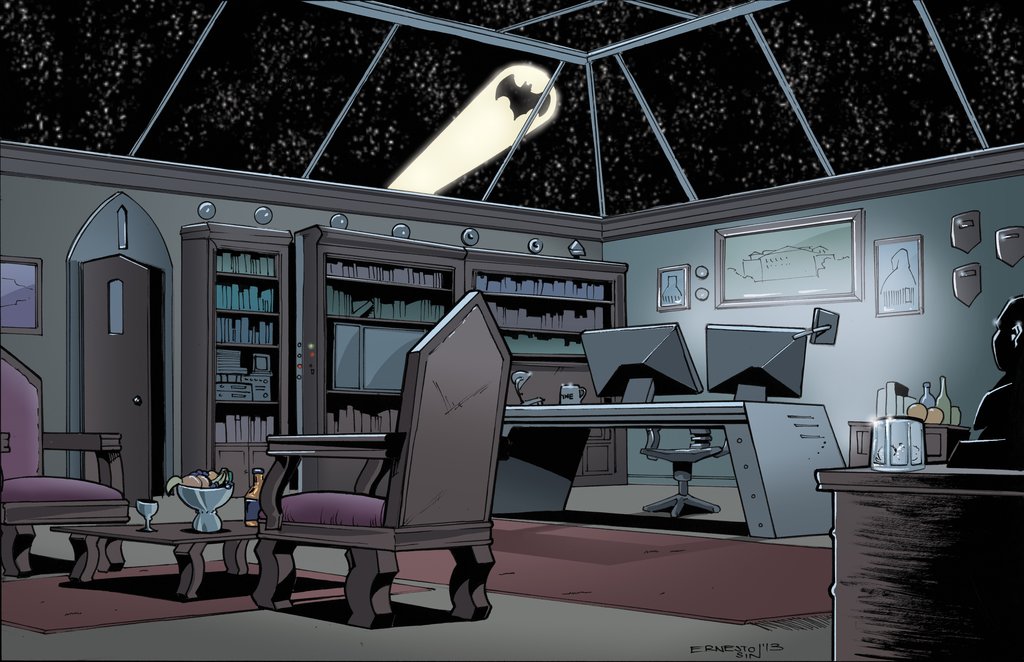 SP: Wow, that is an amazing way to live your life. Tell me some of your plans, goals, where you live?
ES: Everything started in high school with this little dream of eventually create a graphic novel to publish and later on make it into a movie. It's a childish dream but I'm chasing it. It is a very big goal, and it scares me sometimes, hahaha. That's why I am here, studying at "The Kubert School," which is a school completely dedicated to comic books and narrative art. This school is well known in the comic book industry and I would say that the learning experience here is like in no other place. The teachers are working professionals. Many students have graduated from here and gotten jobs at Marvel or DC Comics. Here's were my journey started. Traveling alone, leaving my hometown, family, friends to pursue this crazy dream that has taken me to this school, has introduced me to the people I know and has cleared a little bit the path I'm taking to reach my main goal, which is write, draw and publish a graphic novel. And yes, it involves some paintball. Because I LOVE paintball. And eventually turn that graphic novel into a movie. I'm getting there, I know it may take another 10 years, but every day I feel a little bit closer.
"I want a job that keeps me away from a desk, I want to do something different for a living." That's what i used to think when I was in junior highschool, and to be honest, is the same thing I keep thinking right now, which is ironic because by drawing close to 6 hours a day, I'm attached to my drawing desk all the time, hahaha. But i love it and I know it is the only way to reach my dream goal. I like traveling A LOT and unintentionally I've been doing it a lot in the past 2 years, which is great!! I want to keep doing it! I didn't know the US before coming to school and I've traveled to many cities around here already. Traveling is another one of my dreams. I want to travel all over the world, mainstream places and little towns, I want to know different people, cultures, environments and ways of living. But I especially want to do what I like doing, I want to draw and play paintball. One big goal i have also in mind is to draw comics over the week and play paintball every weekend or twice a week. Either if I get married or don't, I'm going to keep playing paintball. If I have kids, I'm gonna show them the way of paintball! In the end I'm not asking to become rich, or super famous or whatever but if I can get to the point were I can sustain a family and play paintball once or twice a week, without being worried about paying rent or having to eat, I would be all set.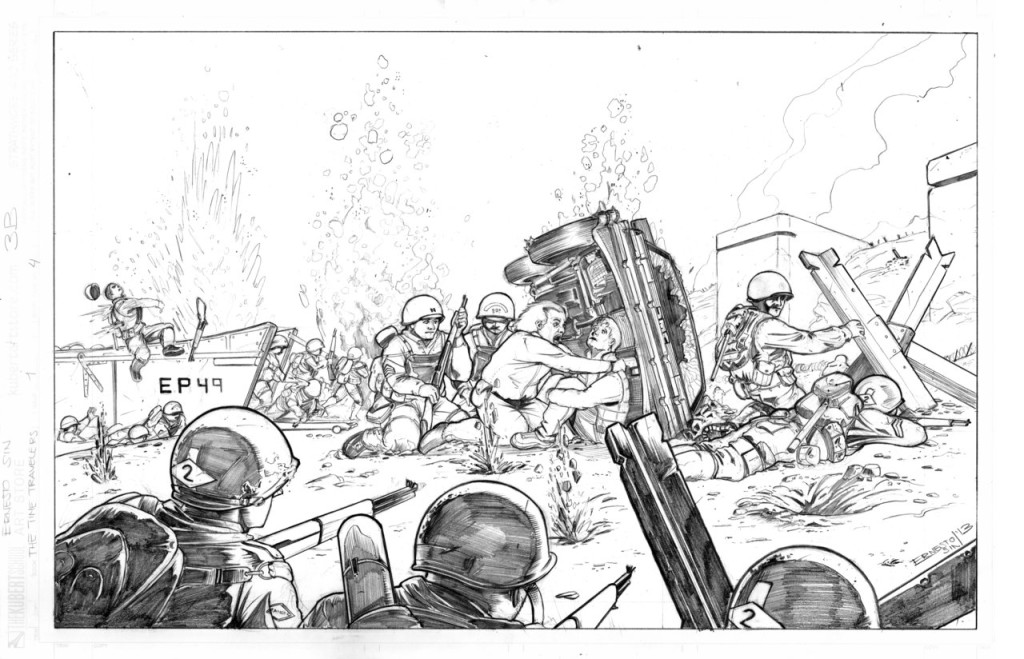 SP: Family, paintball, and art.. That says it all. Thanks for taking the time to tell us about yourself.
You can contact Ernesto about his art and for custom work here: https://www.facebook.com/ernesto.sin. Find him on Twitter @ESin49 and check out his other art at: http://ernesin149.deviantart.com/
Expect more featured paintball art by Ernesto and others very soon.