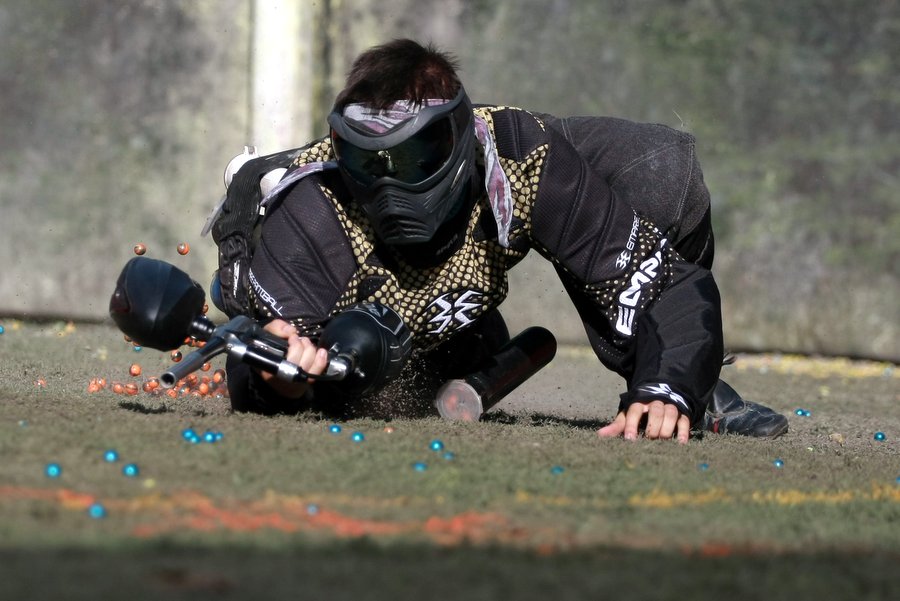 It was truly an epic day of paintball. Everyone began to arrive, as the sun rose on Paintball Adventure Park in Maryland, driving from all over to play in the Eastern Paintball League's Snoke Memorial Cup. Players across four divisions arrived bright and early. Once registration was completed, teams began to prepare and the day began to the sound of horns, whistles, and paintballs being shot.
In Division 4 race to 2 5-man prelims XSCAVATORS went undefeated through all of their matches, not dropping a single point. Maryland Militia also went undefeated throughout prelims in a competitive division getting the bye to semi finals with XSCAVATORS.
Strong paintball also got Relentless, Damage Control, Carolina Snapback, and Baltimore Equinox 2 and get into the quarter final round. Maryland Shockwave and Maliciouz Army also played well and only missed finals by a few points. From Quarterfinals, 6th place seed Baltimore Equinox defeated Relentless 2-0 and sent them to semifinals to play Maryland Militia. Damage Control went on to play XCAVATORS after beating Carolina Snapback 2-0.
During the D4 race to 25-man Semi-final round, Maryland Militia beat Baltimore Equinox 2 2-0, and Damage Control beat XCAVATORS 2-0, sending XCAVATORS on to play Baltimore Equinox 2 in the 3rd/4th bracket.
In the end, the wind blew and turned a hot and humid day into a dark and stormy one. Just before the storm hit, the finals were played. The first point went to Damage Control, after a long point Damage control sealed the deal going 2-0 to win 1st place at the Snoke Memorial Cup of the Eastern Paintball League.
Division 5 race to 2 5-man was another good division to watch. It was a tough and competitive division. At the end of the prelim matches Maliciouz Army Black sat at the top of the division going undefeated, a hard fought day where each match went to the 3rd point. In the end, Maliciouz Army Black pulled out the wins to get them the bye and the straight ticket to finals. VA Static took the 2nd place seed going into semi finals to play 3rd place seed P4 Posse 4. Virginia Static went on to beat P4 Posse 4 2-0 to go on to play 1st place seed Maliciouz Army Black. The wind howled and dark clouds rolled in and brought thunder and rain, but just before it all came down, VA Static was able to take the first point from Maliciouz Army Black. A good 20 minutes after lightning was seen, the final point was played in the downpour. VA Static beat Maliciouz Army Black 2 in an epic showdown with dark clouds and heavy rain finishing the tournament in finals 2-0.
Division 4/5 race to 2 3-man, Foopleding led the pack going 4-0, only dropping 2 points in prelims earning the bye to finals. Grand Theft Paintball and Eastern Shore Xile qualified for the semi finals, XCAVATORS_2 almost made it in, ending each match with a tie with the exception of Foopleding. Grand Theft Paintball in Semi Finals was able to come out and beat Eastern Shore Xile 2-0 in two quick points. During finals Grand Theft Paintball played Foopleding in a back in forth match. At the end Grand Theft Paintball won 2-1.
In Division 6 race to 2 3-man the prelims finished up with Xcavators Gold on top, with Damage Control 2, Damage Control 3, and VA Static making it into semi-finals matches. Damage Control 3 beat Damage Control 2 2-0 and Xcavators Gold beat VA Static 2 2-0. Damage Control 3 tied the first point with Xcavators Gold, lose the second point and win the third point. The match ended in a tie. Damage Control beat VA Static 2-0 in the 3rd and 4th place finals match.
After a hot day and some wet finals matches, the day finished with the following standings:
Division 4 Race 2 (5man)
1st Damage Control
2nd Maryland Militia
3rd XCAVATORS
4th Baltimore Equinox 2
Division 5 Race to 2 (5man)
1st VA Static
2nd Maliciouz Army Black
3rd P4 Posse 4
4th P4 Posse 3
Division 4/5 Race to 2 (3man)
1st Grand Theft Paintball
2nd Foopleding
3rd Eastern Shore Xile
4th XCAVATORS_2
Division 6 Race to 2 (3man)
1st Damage Control 3
2nd Xcvators Gold
3rd Damage Control 3
4th VA Static 2