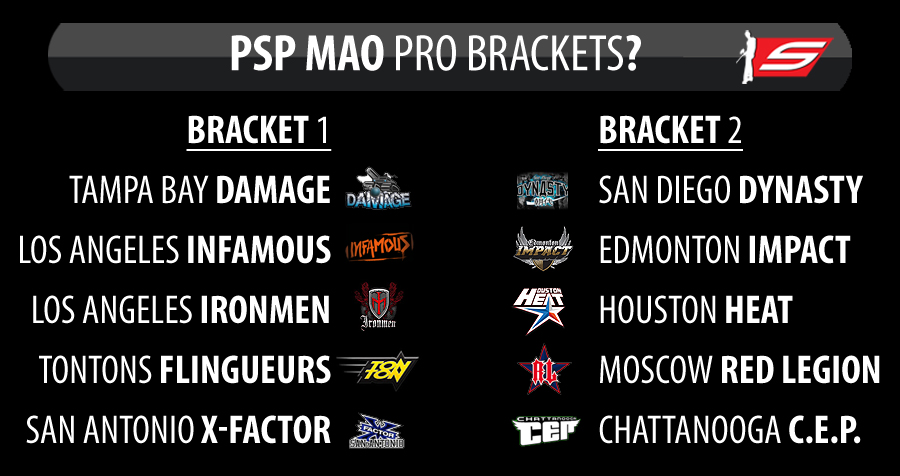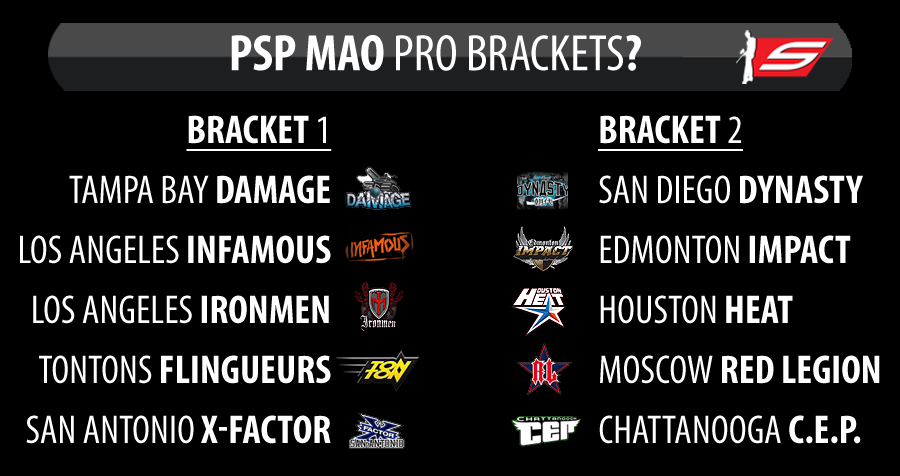 Don't ask me how but we have what could be the potential brackets for the PSP Mid-Atlantic Open. If this is correct it's going to get crazy but keep in mind that these are not confirmed by the PSP, yet.
Bracket 1
Filled with hungry teams who are no stranger to playing in a Pro Sunday and looking to take home the 1st place prize.
Tampa Bay Damage lost by a 3 point margin to San Diego Dynasty last weekend in the PSP Dallas final and went home with 2nd place. They are sure to be strong contenders in PSP MAO.
Los Angeles Infamous looked all but unstoppable until their semi final match against San Diego Dynasty. They lost to Dynasty in the final seconds of the match. If they continue on their streak they will be a top contender this year.
Los Angeles Ironmen has a roster full of talent and hungry new blood looking to make a statement in MAO. They also lost narrowly to San Diego Dynasty, and are sure to be fighting their way to the top.
The TonTon Flingueurs from France had a great showing in their first PSP event of the year: going 2-2 beating Upton 187 and Seattle Thunder. They will be looking to continue their way up the ranks at MAO showing the French can play with the best at their level.
San Antonio X-Factor is looking good this season taking down Houston Heat in a 7-6 game and Sacramento XSV 7-2. They also beat both wild card finalists Omaha Viscous and Upton 187. MAO will be a big event for San Antonio X Factor.
Bracket 2
Looks like it will be a bloodbath, considering the teams sitting in it. None are unfamiliar with winning events.
San Diego Dynasty took home the 2012 NPPL Vegas Championships and continued their winning streak into the PSP Dallas Open. The team looks hungry and the roster depth is impressive. MAO will be a big step to see if the old winning ways of San Diego Dynasty are back.
Edmonton Impact, with its new pickups, had a great showing at the PSP Dallas Open despite their semi finals loss of 4-5 to Tampa Bay Damage. If I know the players on that team they aren't going to let that stop them from getting a few 1st places this season.
Houston Heat also had a solid event with big wins against Sacramento XSV, Chattanooga CEP, and a narrow win against San Diego Dynasty. Their losses only losses came from Edmonton Impact and San Antonio X-Factor. The World Cup Champions are sure to be making a big splash at PSP MAO looking for redemption.
Moscow Red Legion did not have the event that they wanted to have only going 2-2 in prelims. I'm sure Red Legion is back in Moscow hitting the drawing board, watching film, and analyzing everything so they can come back to PSP MAO with a vengeance.
Chattanooga C.E.P. came out and surprised many in Dallas. It's going to be an exciting year for these guys if they can keep putting in the work. I can't wait to see what they bring to MAO.