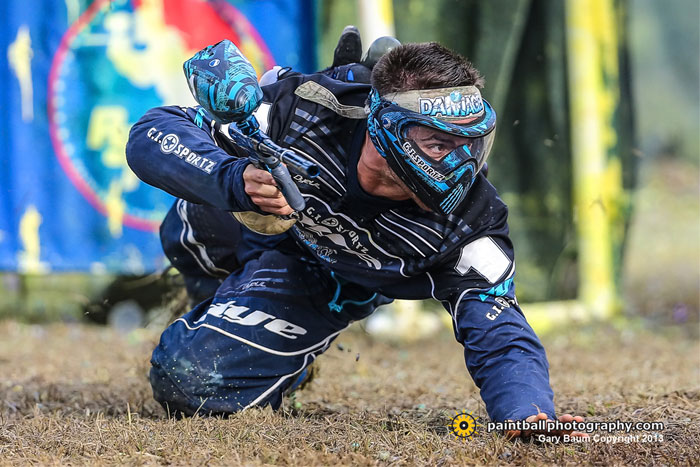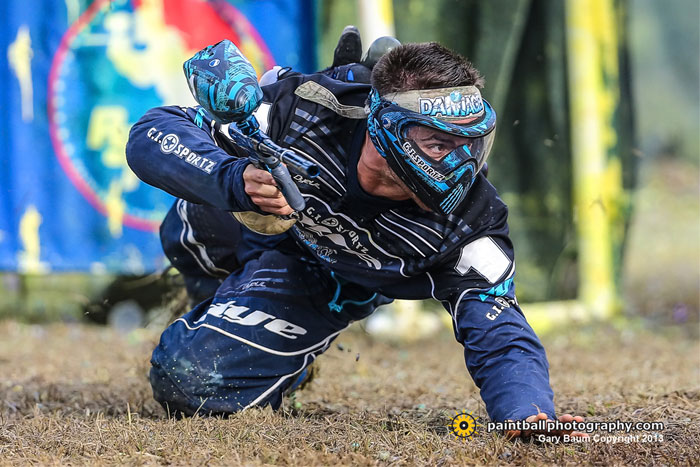 The third day of PSP Dallas was just as surprising as the first two.  Teams that looked strong were handed losses and teams that we thought wouldn't have a chance to make the Champions League, did.  These factors, along with ultra strong teams coming into the finals, will make for an awesome end to a great event.  Here are five thoughts you should probably take into account before we watch some of the high level paintball that we have been anticipating.
Only Two Teams Remain Undefeated
Damage and Infamous look to maintain dominance going into the finals.  Damage has won all of their matches by at least 3 points, looking impressive, with a 4-point margin.  Infamous had closer points but still pulled out 4 wins with an average margin of 2.5.  These two teams have dominated the last two days and are sure to contend the rest of the season, posing a challenge for Houston Heat (3 wins 2.75 point margin) who have won three of their matches, only falling to X-Factor (2 wins -1.25 point margin).  These three teams, along with Edmonton (3 wins 3.5 point margin), will make up the top tier of the professional division for this event and watching them face off tomorrow is sure to be interesting.
Three Teams Had Zero Wins
The PSP MAO Challengers punched their tickets: Thunder (0 wins -4.5 point margin), XSV (0 wins -4.75 point margin),and an anemic Aftershock (0 wins -5 point margin).  These teams will compete in the Challengers League and as such they will have to prove they belong in this division.  Based off of their performances over the weekend, it's hard to say if they even deserve to be there.  Aftershock looked like an aggressive D3 team running into lanes and not playing the smart aggressive paintball they are known for, but rather a chicken with it's head cut off style we hope doesn't become their norm.  C.E.P. has shown us that anything is possible.  These teams have a steep uphill battle ahead of them.
187 Crew, Vicious, and X-Factor Still Have to Battle It Out
No teams want to be put in the situation to have to battle for a 10th spot.  Upton played well last season and their dip in performance has surprised everyone.  All three teams' wins coming from Challengers and winless Challengers (with X-Factor's win against Heat being the standout), as mentioned before, this match up should be interesting.  With so much on the line, the match up should prove entertaining. Regardless of what Vicious wears tomorrow it will be a "Red Sunday" as they are fighting for everything in this match up.
Tontons Takeover
The Tontons were a wildcard for most fans and even for most analysts.  How would they react to a format that is new to them and a level of performance they may not be used to?  They answered with a decent 2-2 with a .5 point margin.  They lost a close match up against the undefeated Infamous, which came down to the wire.  This is not a team to underestimate because they have something to prove.  They are trying, not only, to prove they belong, but also to prove that the juice is worth the squeeze and that a transatlantic flight is the only thing separating them from these other teams and nothing else. Look forward to seeing them compete in the Champions League in MAO.
Houston Heat Doesn't Look Like Houston Heat
Houston Heat won three matches but does not seem to be firing on all cylinders.  The win against C.E.P. was hard fought, despite the score, and although there were no offseason changes to the Heat roster, they looked tired.  Perhaps they were putting in half effort to rest for Sunday, but that doesn't sound like Heat.  With teams like Damage, Impact, Dynasty, and the Ironmen knocking on their door, you would think they would be looking to dominate like they did last season.  Keep in mind that their one loss was handed to them by an X-Factor team that was steamrolled by C.E.P. whom they beat in their first match up.  If Heat doesn't pick up the pace, they could have trouble in the Sunday playoffs and considering they will face a strong Impact team for their first match, they won't be able to leave anything off the table.