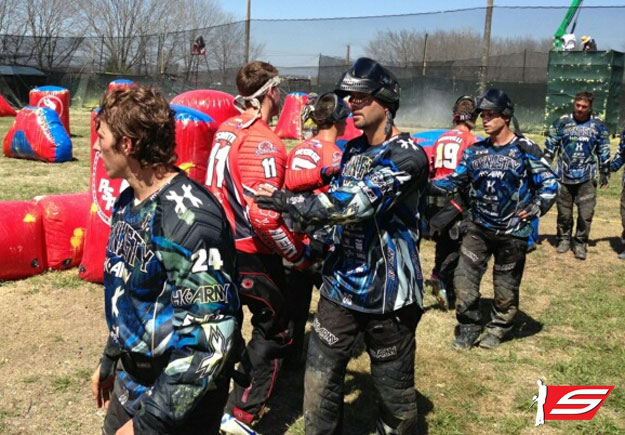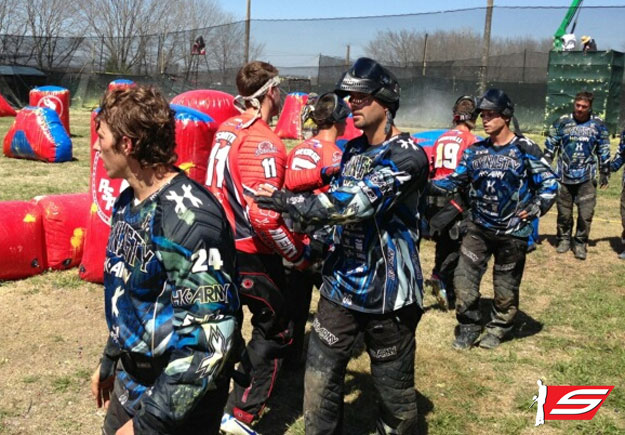 The 2013 PSP season has started with a bang and hopefully you've been following the action on the live webcast presented by Paintball Access, or are following along with us on Facebook as Social Paintball provides you with all the scores from the afternoon. Today we saw some really awesome paintball and got a good look at how teams will play this hyper-fast field. However, we have some things for you to ponder as we put new tapes in the cameras, clean off the hits and get ready for another full day tomorrow.
Is Chattanooga C.E.P. for real??
In their first game against Houston Heat, C.E.P. came out swinging and was able to put a few points on the board. They looked poised and calm the entire time – something we did not see last season. The next game, they went absolutely ballistic against San Antonio X-Factor, winning 7-1. Their gameplan was solid, they were able to limit their time in the penalty box and relied on a super strong counter punch style of play that propelled them to the finish line. The big question is: can they keep it up? If so, C.E.P. could be a potential dark horse to make it to Sunday.
Can XSV salvage their event?
Sacramento XSV drew a tough bracket, but only scoring three points in two games, and allowing your opponents to drop the magic number seven in both games, is not how you want to start a tournament. Thomas Taylor was the only bright spot for the team as he was able to take control of a few games and grab a few eliminations, but other players are going to have to pick up their game. The rest of their weekend is against an over achieving C.E.P. and Houston Heat; a very tall mountain to overcome. One so tall, XSV could be playing in the Challengers Division next event.
Can Edmonton Impact keep it up?
With all their offseason acquisitions, the bar was set very high for Edmonton Impact, and so far they have been able to produce as they routed the Moscow Red Legion (7-2) and Omaha Vicious (7-0). So far it seems that not only does money talk, but it also walks and "That's the reason you pay Dave Bains." But, can they keep it up? The Moscow Red Legion have had slow starts at several events the last two seasons, and it seemed that Omaha simply had no answer for anything Edmonton did. Can Edmonton ride this wave of momentum, or will their remaining teams use today's games as a way to unlock the secret to beating Impact?
Will San Antonio X-Factor rebound?
Simply stated, X-Factor looked like World Champions against Sacramento XSV as they handily beat them (7-2). They were in total control of the game from start to finish and looked like they could have beaten anybody during this game. After this, they were dominated by an unlikely C.E.P. (7-1). The team's next games are against a hot San Diego Dynasty and then Houston Heat, which doesn't bode well for the boys from Texas. We are curious to see what coaches Ryan Brand and Paul Richards are able to do tonight in order to prepare their team for tomorrow's gauntlet.
When will Mike Bruno's head explode?
This guy. Man. Watching this guy on the webcast is awesome. You can feel the emotion coming off of his body to the point that you're scared for even your own life. Unfortunately, this indicates that Chicago Aftershock is back to their old ways where each game seems like a series of unfortunate events. The team is most likely destined for the Challengers Division, which is O.K, but we would all love to see them play a complete game in which they actually lose the match to another team, not to the referees.
P.S. – we hope there are some great doctors in the house, not if, but, when coach Bruno's head does explode.
So there you have it folks. One full day of paintball is in the books. Remember you can watch the webcast live at www.socialpaintball.com/psp and if you're not able to watch, we're keeping you up to date with scores on our Facebook page at www.facebook.com/socialpaintball
Here are today's scores: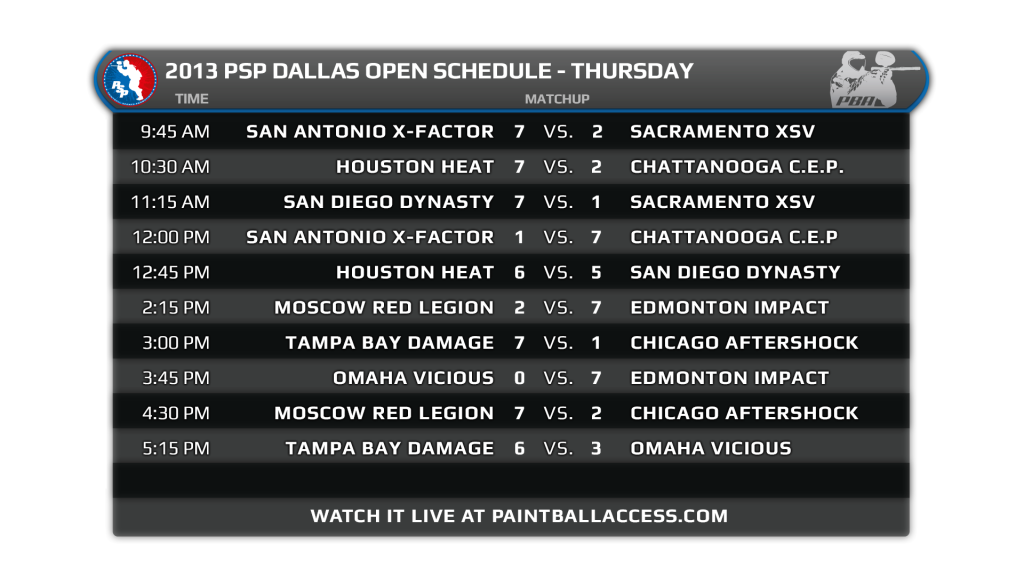 and tomorrow's webcast schedule: