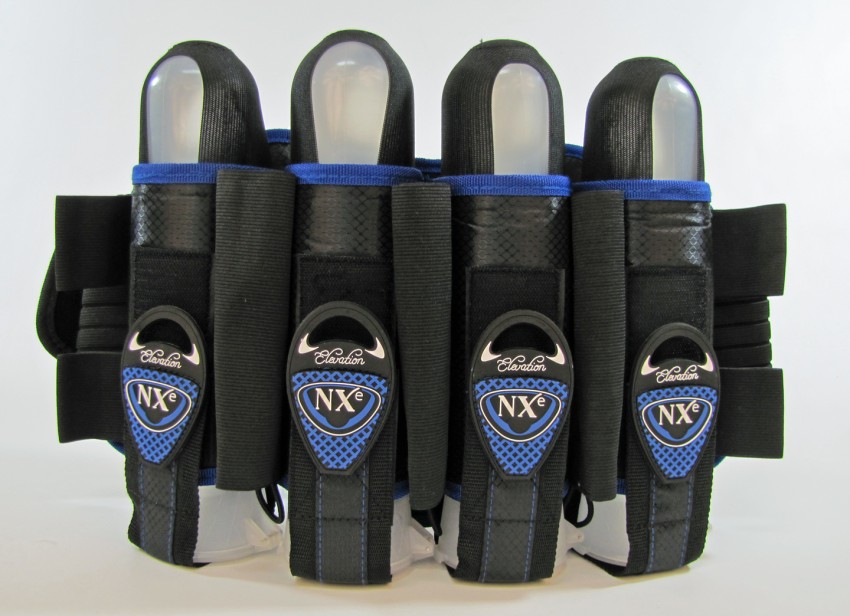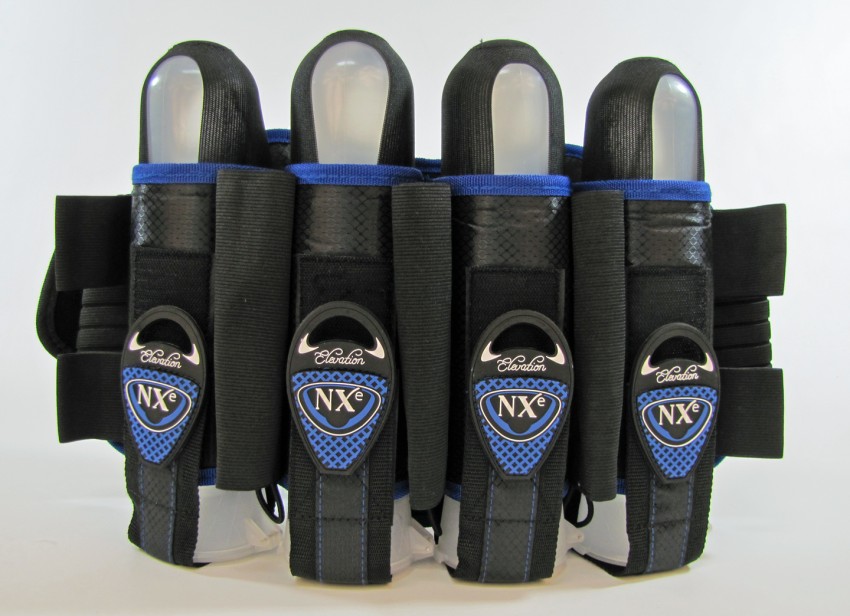 Elevation Harness Series Redesigned to Offer Greater Comfort and Performance
Additional lumbar support and lighter-weight design improve industry leading harness line
Fort Wayne, Ind. – The popular Elevation Harness series by NXe Paintball has been improved to offer unmatched comfort, performance, and durability. A new molded back panel with foam supports and rubberized grip points has been added to the lumbar region to help keep the harness securely in place during competitive play. Mesh lining has also been integrated to lighten the overall weight of the harness while allowing a players' back to breathe, and heavy-duty pull tabs have been enhanced for quicker reloading. Other key features include a redesigned 4-piece adjustable body wrap belt, non-slip nylon elastic ejectors, friction-reduced pod ejection sleeves, and a hidden valuables pouch.
"We've incorporated these updates to make the popular Elevation Harness series even better and meet the demands of our tournament players who are using the Crossover as well as many scenario teams who do not use a remote system but want a lightweight, durable harness that stays secure during a full day of action," said Ron Goldblatt, director of marketing for Tippmann Sports, owner of the NXe brand. "This product is now clearly positioned as the gold standard in the industry and will be trusted by some of the best teams in paintball as they take the field at NPPL, UWL, PSP, the Millennium Series, and many other scenario events throughout the year."
The Velcro body wrap integrated into the Elevation Harness series allows a secure fit for waists from 24 to 52 inches. The hidden valuables pouch provides an ideal spot to keep money, small tools, and other personal items accessible. Plus, two different configurations – 4+3+2 and 3+2+2 – are offered to meet a player's personal preference and style of play.
The newly improved Elevation Harnesses comes in black, blue, and olive. More specifics will be available soon at www.Tippmann.com.
About Tippmann Sports:
As an industry leader, Tippmann Sports has been manufacturing paintball products in the USA for more than 25 years and is dedicated to quality construction as well as advancing paintball technology and design. The company serves the global paintball community from its headquarters and manufacturing facility in Fort Wayne, Indiana as well as its warehouse near Tournai, Belgium. Tippmann Sports' complete line of paintball markers and related accessories can be found at paintball stores and fields as well as mass retail and sporting goods outlets throughout the world.