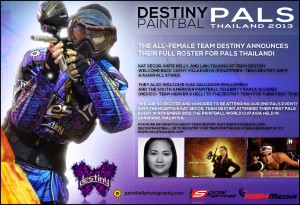 The all-female Team Destiny has announced their full roster for PALS Thailand.
Kat Secor, Katie Kelly, and Linh Truong of Team Destiny welcome back Cathy Villanueva (Philippines – Team Destiny ARMY & Asian All Stars). They also welcome Guia Salvador (Philippines) and the South American paintball celebrity Karla Alvarez (Mexico – Team Heaven & Hell) to the Destiny Team for their first time!
"We are so excited and honored to be attending our 2nd PALS event," says team captain Kat Secor.  Team Destiny attended their first PALS event in November 2012, the Paintball World Cup Asia held in Langkawi, Malaysia.
Team Destiny will be competing in Division 2 in the 1st leg of the 2013 Paintball Asia League Series, taking place in Bangkok, Thailand.  The PALS events are sure to impress with their extraordinary locations across Asia, incredible players parties, exotic beaches, tourist destinations, and so much more.  Plus, the Paintball Asia League Series (PALS) is the largest paintball series in Asia.
For more information about team Destiny visit facebook.com/DestinyPaintball or to register your team for the PALS Thailand event go to http://www.palsthailand.com.