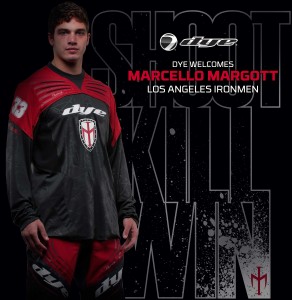 [Update 2:29 PM ET]: Dye has fixed their website glitch and have posted their official statement on their blog. "DYE is proud to announce that Marcello Margott, PSP World Champion, former Ironmen player and PBA's 2012 #2 ranked player in the world, has returned to his roots by signing a multi-year contract with Dye and their flagship team, the Los Angeles Ironmen." via Dye Blog
It's official, Marcello Margott (#33, Front; 2 PBA rank) has signed on to play the 2013 season with the Los Angeles Ironmen. The announcement was made on the Dye Paintball website, sort of. There is a graphic with Margott on the homepage. When you click the image, it produces an error. Might this have been a mistake on Dye's part? Maybe someone in their web department jumped the gun and posted it too soon? Either way, it's official enough. Margott will play with Dye's factory team, the LA Ironmen.
This comes as no surprise to us. A couple of weeks ago, on November 27th, we posted an article titled Would LA Ironmen Benefit from Signing Marcello Margott. We posted that article with good reason and if you have not read it, you should. We list a few reasons why Marcello will be a good fit with the Ironmen.
No details have been released yet, but it is safe to say that Margott will be able to help an Ironmen team that often times struggled throughout the 2012 season. While they finished a respectable 4th in the final PSP series rankings, some of their loses were brutal. There is that one match at the PSP Chicago Open against Upton 187 Crew that will go down in history when 187 Crew nearly blanked them 7-0. The match ended up 7-2, in 187 Crew's favor, but it was a tough loss for the Ironmen.
Despite the tough losses, they did show some signs of greatness, making Sunday at events and winning matches with both skill and brute force. Adding the 2nd ranked player in the league to your roster should be an instant boost to your lineup, right? Usually it is , but that's why they play the game. There is one thing for sure though, Margott is a fierce competitor that trains hard, day in and day out. He is our pick for Comeback Player of the Year, after coming back and having a solid year despite having a torn ACL, meniscus and cartilage in his knee a season ago. It will be up to the Ironmen's new coach, Mike Hinman, to utilize his players effectively. Hinman's previous coaching stint was with San Diego Dynasty.
This is not Margott's first time playing for the Ironmen, he played with them as recently as 2007. Here's a video of him playing on the team.
Margott has been a solid player throughout his career, having played on teams such as DYE KIDS, SD Aftermath, San Diego Dynasty, LA Infamous and Russian Legion. He's been on various championship teams and his resume is proof that he is a winner.
Here is a list of his Divisional and Pro tournament wins:
Pro Wins
2007 PSP LA Open 1st place
2007 NPPL Kansas City 1st place
2007 PSP World Cup Orlando 1st place
2008 NPPL Buffalo 1st place
2008 MILLENNIUM France 1st place
2008 PSP World Cup Orlando 1st place
2009 SEVENS Perth, Australia 1st place
2010 PSP Chicago 1st place
2012 NPPL Las Vegas 1st place
Division 1 Wins
2006 NPPL Tampa, FL 1st place
Division 3 Wins
2005 PSP Los Angeles 1st place
2005 PSP Orlando 1st place
2005 PSP MAO 1st place
2005 PSP Chicago 1st place
2005 PSP World Cup Orlando 1st place
Now that Margott will play for his hometown team, where does this leave Boston Red Legion for the 2013 season?