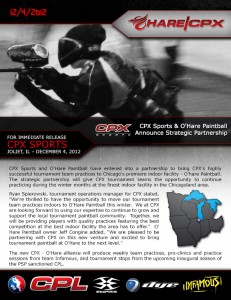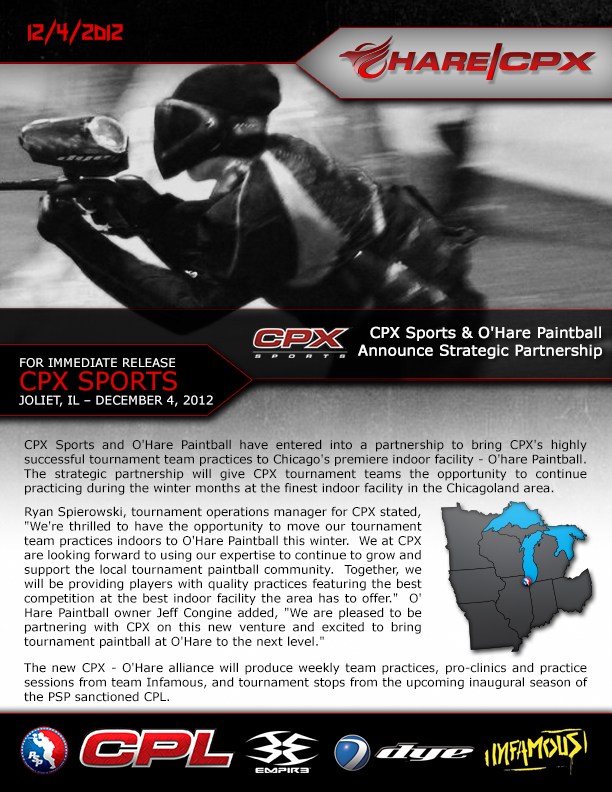 Joliet, IL – CPX Sports and O'Hare Paintball have entered into a partnership to bring CPX's highly successful tournament team practices to Chicago's premiere indoor facility – O'hare Paintball. The strategic partnership will give CPX tournament teams the opportunity to continue practicing during the winter months at the finest indoor facility in the Chicagoland area.
Ryan Spierowski, tournament operations manager for CPX stated, "We're thrilled to have the opportunity to move our tournament team practices indoors to O'Hare Paintball this winter. We at CPX are looking forward to using our expertise to continue to grow and support the local tournament paintball community. Together, we will be providing players with quality practices featuring the best competition at the best indoor facility the area has to offer." O' Hare Paintball owner Jeff Congine added, "We are pleased to be partnering with CPX on this new venture and excited to bring tournament paintball at O'Hare to the next level."
The new CPX – O'Hare alliance will produce weekly team practices, pro-clinics and practice sessions from team Infamous, and tournament stops from the upcoming inaugural season of the PSP sanctioned CPL.
For more information visit, http://cpxsports.com.