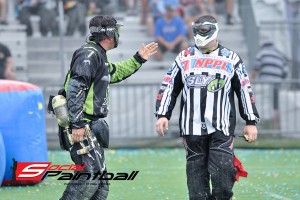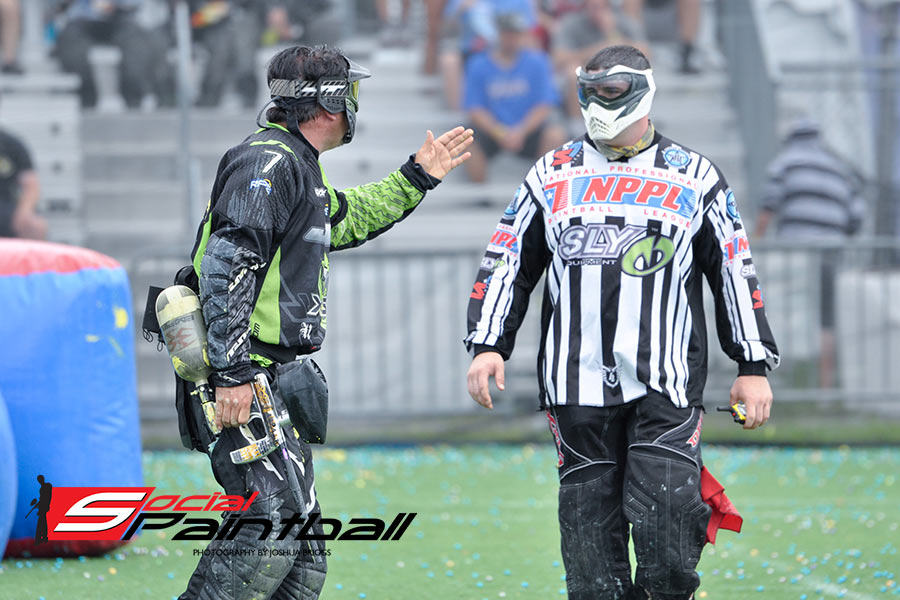 The National Professional Paintball League conducted the 3rd of 4 national events this year at Pev's Paintball Park in Aldie, VA. As teams checked into registration on the very sunny Thursday before the event, several D1 and Pro teams were given an opportunity to practice on the field layout (on Field 3). The Center Court, Field 1, was still being set up, but Field 2 was ready, giving players a chance to "walk the field." Pev's Paintball Park was also opened for business to walk-on players by reservation. There were five different fields available for walk-on customers during this national event, which included: The Town, The Fort, Rock/Boulder/Cave, Scrapyard, and Logyard. Now that the event is over, the Park will reopen its three airball fields; two Turfed Airball fields and an Airball field atop grass.
Teams
Approximately 70 teams registered at the DC Challenge, however, a couple of teams caused a slight delay to the Friday schedule and didn't show up to play. There were 14 pro teams in the 7-man Race to 5 Format, with 14 Division 1 teams in the 7-man Race to 4. Just 5 teams competed in D2, 16 in D3, a total of 19 D4 teams (14 7-man and 5 5-man), and a Pump Division with just 3 teams.
A total of three fields were used at the DC Challenge: a main field (Field 1) for just the Pro and D1 teams, Field 2 for divisional team competitions, and D4 and Pump on Field 3 (grass field, non-turf).
Not only was there a delay of games Friday morning due to no-shows, but a rain delay brought the schedule to a halt Sunday morning to about 2 PM, just around the start of semi-finals. However, games still managed to finish by 5pm, with Field 1 ending first at 4:30 PM.
Professional Team San Antonio X-Factor became the 2012 DC Challenge Champions, defeating Chicago Legend.
Pro:
1. San Antonio X-Factor
2. Chicago Legend
3. Tampa Damage
4. Vancouver Vendetta
X-Factor put the first two points on the board, forcing Legend to concede, Legend hoping that by doing so, it would give them more time. In the third game point, Legend would put their first point on the scoreboard with 2 minutes and 37 second left in the match. Then, as the two pro teams came back for their fourth and final game, X-Factor came out on top, preventing Legend from tying up the score and avoiding going into overtime.
In between the Pro Finals match game points, the Division 1 Championship match took place with TradeMyGun D1 facing off against TCP Machine. TCP Machine already competed at the 2012 Chicago NPPL event held previous to this event, but this would be TradeMyGun's first time in D1. The first game point was a long one, with TradeMyGun finally putting the first point on the board. The second game point, it would be TCP Machine to tie up the match with just 1:33 to go in the match. At the start of the third game point, TCP Machine sent a player to TradeMyGun's 45yard line, crossing the 50, and lived in the "cake" shaped bunker closest to the dorito tape. With less than a minute left in the match, TradeMyGun breaks open the game by eliminating that TCP player sitting on TradeMyGun's 45. With just 33 seconds left in the match, TradeMyGun leads by 1 point. The fourth game point, TCP takes off shooting towards the 50 yard line and beyond, just seconds later, a red flag is thrown in the air against TCP for playing-on. The match is automatically stopped with 17 seconds left on the clock and an automatic point is granted to TradeMyGun bringing the score to 3-1. The fifth game point, the two teams came back on the field, but this time TCP didn't push as hard initially. Time ran out and TradeMyGun won the D1 Championship, putting TCP in 2nd Place.
D1
1. TradeMyGun
2. TCP Machine
3. Camp Pendleton Raiders
4. Avalanche EVO
In D2, it was High Octane and Palm Beach Vipers in the Finals. The finals match ended in overtime and had to play out two two-minute one-on-one games to determine a champion. In the end, High Octane came away with the D2 Championship.
D2
1. High Octane
2. Palm Beach Vipers
3. Camp Pendleton Raiders
4. Hawaiian Heat
D3
1. Avalanche D3
2. Syndicate
3. EFFECT
4. Farside
D4 7-man
1. Farside Kids
2. CEPP DMG
3. Miami Devious
4. Philadelphia Misfits
D4 5-man
1. University of Missouri
2. Colorado Allstars
3. Dirty Kids
Pump
1. West Coast Sharks 2
2. Rockin' Cocks
3. West Coast Nation
Pev's Paintball Park & Pro East vs West All-Star Game
This was the 3rd year that the NPPL made a return to Pev's Paintball Park and it was also the host of the 3rd Annual Pro East versus West All-Star Game. The All-Star Game took place at 5PM on Saturday, Aug 25th, followed by the Player's Party and a Benefit Concert Event raising awareness and funds for the Northern Virginia Spay Neuter Clinic. The Concert Party was free for NPPL Players and just $10 entry for those non-paintball event participants. Captaining the East Coast Team was Damian Ryan and Tim Montressor and for the West Coast, Captains are Ryan Greenspan and Rich Telford. The East finally beat the West (the first two, the West had won), with a score of 5-0.
Final NPPL Event – Vegas
The next and final event will be the World Paintball Championships in Las Vegas, Nevada, October 5-7. Get details on the webcast and event at www.NPPL.com
Schedule & Scores
http://www.npplnetwork.com/2012DCChallengeSchedulesScores.htm
All-Star Game Roster
Find out who played during the Pro East vs. West All Star Game – http://www.nppl.com/news/346
Photo Gallery
Photos by Social Paintball's Joshua Briggs.