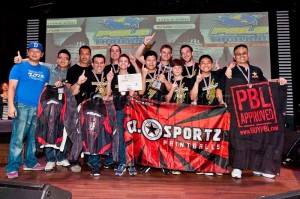 What happens when you have a bunch of Canadian Rockstars and send them on over to Thailand? They party like the rock stars that they are but they also go 11-0 in the paintball games they play. Rockstar Factory Canada did what not to many teams have ever done, they went into a world class tournament and decimated their competition all weekend to end on the top of the podium with a flawless victory.
A big congratulations is due to these men for their PALS victory! Nothing short of stellar!
It was an 11 – 0 clean sweep.
"This adventure is one of the greatest paintball achievements that we have done as a team. We traveled more than 22 hours to compete with Asia's finest players. Half way around the world to meet new friends, new supporters, and show case the Canadian talent," said Alex Medina, team owner.
To learn more about Rockstar Factory Canada, please visit: http://www.rockstarfactoryteamcanada.com/