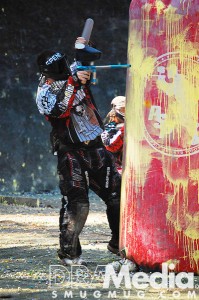 I would like to welcome you to the second installment of Northeast Player Profile. I am pleased to say I had the chance to ask Gabe Ricard of the New England Lobsters some questions.
Player Profile:
Name: Gabriel Ricard
Age: 31
Years Playing: 6
Current Team: New England Lobsters
Past Teams: GRIND, Boston Bloodline, Somerville Crisis, Lex Talionis, East Coast Kings, Mass Destruction
Home Field: Boston Paintball
Leagues Played In: FOX 4 3/5man, NEPL, NPPL, AXBL, PSP, AXL, NEXL, FOXBALL
Current Marker Set Up: Geo 2.1, Prophecy Z2, 68/45 (CP bottle with short Pure Energy reg)
Position: Usually home/d-side, but I'll play anywhere.
What got you into paintball? My buddy's dad had a PGP and let us shoot it in the woods a few times. I convinced my parents to get me a paintball gun for my 14th birthday and played with some friends in the woods. Unfortunately, I stopped playing when I ran out of paint after playing a few times and didn't pick up a paintball gun again until a bachelor party in 2005. I played a couple times that summer, and then a bit more that winter at Planet Paintball and got hooked on speedball, played some Fox4 events with some other local guys and haven't looked back since.
Why else do you play? Because I'd probably go nuts if I didn't. It's taken over my life. I love the challenges (both mental and physical), the travel, and all of the great people I've met. Most of my best friends now are people I've met playing this game.
Player that inspires you? Can I pick more than one? Nick Slowiak – probably the most determined and dedicated paintballer ever. Brian Fineberg – because if an old man like him can make it to the Pro ranks, maybe I can too someday. 😉
Do you have any sponsors? That's still being worked out for the 2012 season. I'd like to thank Boston Paintball, Empire and Planet Eclipse for their past support, though. They've always been superbly helpful, and have the best products out there.
What you do outside of paintball? I work for a real estate company in Massachusetts doing software development for an internet real estate service. I sit on my butt all day, so the rest of the time (when I'm not at the field) I'm hiking, biking, snowboarding, traveling, and collecting whiskeys.
First Paintball gun? AGS Devastator (a pump gun).
First Tournament you played in? Fox4 3man in 2006.