A joyous reunion of the Paintball industry's most influential staff is now underway at the Procaps® Paintball Headquarters in Montreal, makers of the DXS™, DraXxuS®, G.I. Sportz, and VForce® brands that led the Paintball world and influenced the industry's major trends for more than a decade. Led by founding President Richmond Italia, the original Team's key members are now together again, joined by several of Paintball's most effective personalities.
Leading GI/Procaps' US Operations is Dave "Opie" Thomas, legendary player from Trauma & Image. A former California Field Operator, Opie spent almost a decade with Procaps before taking a vital role with G.I. Sportz. There, he managed production scheduling, influenced product development, and played a key role in overseeing sales and establishing worldwide distribution.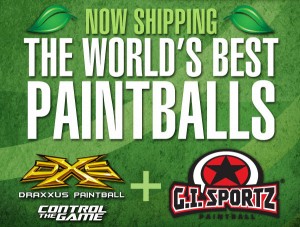 Another Paintball legend, "Mardi-Gras Open" creator Steve "Rab" Rabackoff returns in his expanding role as U.S. Sales
point-man at Procaps Direct's Virginia Headquarters. After years with Team Avalanche and a decade of wholesale distribution experience with Procaps and G.I. Sportz, Rab's relentless energy and genuine passion for the game have become harnessed and focused.
A top veteran from the original "Diablo Direct," Procaps®, and G.I. Sportz™ sales teams, Midwesterner Pat O'Toole's 1990's Game Field Operations success was spring-boarded by his prior years in the Alpine Ski industry. A disciplined former U.S. Coast Guardsman, Pat's customer service excellence is unmatched in the industry. His soft-spoken approach reveals a vast wealth of promotions and business knowledge, to the great benefit of his lucky clientele.
In the Northeast offices, longtime Field Operator and league promoter, Brian Barnograduated to wholesale distribution via American Paintball Supply before joining Procaps three years ago. For over a decade, Brian and Cindy Poole have been a powerhouse team, cultivating as many long-term relationships as anyone in the business, through sincere efforts and solid work ethics.
On the West Coast, former Procaps Direct powerhouse Mike Radgowski has rejoined the Procaps/GI Sportz Team, bringing his jovial personality, tenacious mentality and hard-won skill-set back to the Western clientele.
In the Northwest USA, B.W. Dunn and Joey Mendoza (both of Team "Naughty Dogs" fame) retain their enviable client loyalty through a steadfast in-person approach to service. Unwilling to rely on mere phone and email communications, BW travels more miles than most Pro Teams, making non-stop deliveries, sales calls and follow ups throughout the beautiful multi-state terrain. Joey Mendoza acts as B.W.'s tag-team partner, maintaining high-energy follow-through for clients throughout the region.
Bilingual Alex Reed anchors the Southeast from his Florida offices, expanding his reach southward into the South American marketplace. Boundless energy, tenacious attitude, and his voracious appetite for success propel his tight customer loyalty. Equally bilingual Southeast teammate Aaron Vega traded his riot helmet and bullet-proof vest for a VForce mask. Aaron's work with disadvantaged youth rewards good grades and scholastic achievements with Paintball game outings. A former Florida Police Officer, Aaron also has extensive retail Paintball experience and has conducted many successful Paintball event promotions, bringing a valuable knowledge base to his clients.
At the Factory Headquarters, Eric Stork brings an array of knowledge and understanding to Procaps' sales and marketing endeavors, including trade secrets garnered in the manufacturing and distribution of eye-safety gear for Paintball, Hockey and Major League sports. Eric's down-to-earth sales approach camouflages his vast analytical skills and in-depth marketing scope.
Spearheading Procaps' European sales, G.I. Sportz veteran Shawn McGovern has achieved great success in the Police/Military/Law Enforcement category, through Shawn's imaginative product development leadership. His straight-shooting communication style has rewarded DXS and G.I. with widespread European recognition and demand.
Former Procaps Senior V.P. Communications, Craig Miller returns with his career-long RecBall, WoodsBall and Scenario game background. An influential spokesperson and often-quoted industry veteran, Miller has played a pivotal role in Paintball since 1988. As founding PSTA Vice Chairman and a voting ASTM member, Miller's outspoken safety advocacy and widespread connections throughout the industry add strength and reach to the revitalized Procaps® / DXS™ / GI Sportz™ sales organization.
Procaps' original helmsman, Richmond Italia retains his relentless vigor and visionary outlook. A dynamic tournament Player "back in the day," (Revolution, Avalanche, Image) his captivating magnetism motivates everyone around him, propelling his brainstorms into trend-setting, market-changing realities. After propelling G.I. Sportz™ into a global force, Richmond and his entire Team are now driving full speed ahead toward their rightful position as the world's top supplier of environmentally responsible, top quality PEG and patented EcoFill™ paintballs. Production is already well underway, recreating the superb, reliable products that turned Procaps®, DraXxuS®, DXS™ and VForce® into household words during the recent glory days. Wearing his charming grin, Richmond says, "Ladies and Gentlemen, let the NEW glory days begin!"
Reach them all, TOLL FREE at 1-800-671-9963
Procaps® Paintball (a subsidiary of G.I. Sportz, Inc.) manufactures environmentally friendly DXS®/DraXxuS® paintballs with original PEG & EcoFill™ formulas, plus VForce Vision Systems® Paintball goggles. Procaps Direct™ distributes a full line of quality Paintball gear through an ever-growing Paintball Dealer network. More Paintball info:www.DXSPaintball.com and www.Facebook.com/DXSPaintball.